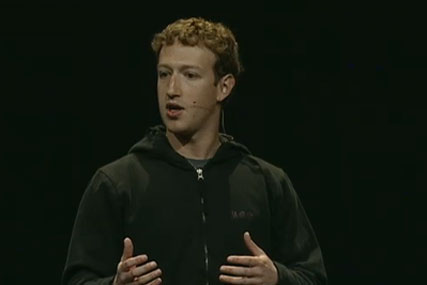 Zuckerberg told delegates: "We think what we have to show you today will be one of the most transformative things we've ever done for the web."
Outlinging the 'Open Graph', Zuckerberg said it yould put "people at the centre of the web" and would bring all connections made across the web, not just on Facebook, together.
"It means that the web can become a set of personally and semantically meaningful connections between people and things."
Among the themes of his speech, Zuckerberg also said the company would be working to improve data collection and retention for developers, and implementing Facebook social plug-ins across the web.
Using the example of CNN, Zuckerberg showed how sites can implement modules that can show who of your Facebook friends 'like' a piece of content and a 'like' button to create a further connection, without ever having to log in to CNN and without the website knowing who you are.
He said the unification of the open graph means companies will be able to connect with users with one account, and know what they think through their updates, making the internet less unstructured by sharing information from the open graph.
"If we can take these separate maps of the graph and pull them together then we can create a web that is more social, personalised and semantically aware," he said.
The result will allow instantly personalised experiences for users when they visit a company's website and offer easier share options for companies and better engagement with its users.
Other examples included online radio website Pandora publishing users' favourite artists on their site using information from their Facebook profile.
More on Brand Republic's digital blog The Wall
How Facebook is working with Microsoft and brands such as Levi's