---
Campaign Viral Chart: Brad Pitt's perfume spot overpowered by Red Bull skydive
By Ben Hall, campaignlive.co.uk, Friday, 19 October 2012 08:30AM
Brad Pitt's appearance for Chanel No5 debuted at number three, but it was Felix Baumgartner's Red Bull-sponsored daredevil skydive from space that stole the show in this week's most shared ads.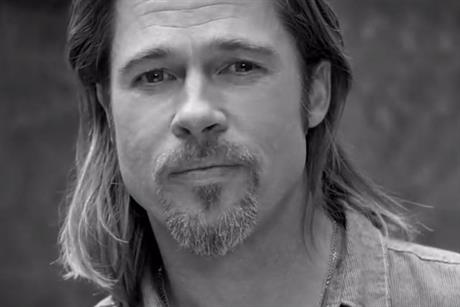 Red Bull's 90-second edit of Baumgartner's record-breaking adventure has been shared 425,147 times since it was posted earlier this week.
Baumgartner broke both the sound barrier and YouTube's record books as he hurtled towards earth on Sunday (14 October), racking up eight million concurrent views on the social video site - the highest in its history.
Pitt's Chanel No5 ad generated 311,000 Facebook updates, 9,500 tweets and 274 blog posts. A second ad for Chanel No5 follows in ninth position with 63,000 shares this week. Both ads were created in-house.
To view the most-shared viral ads from previous weeks, visit the Brand Republic viral video board on Pinterest.
The chart, produced in conjunction with Unruly, ranks ads according to the number of times they have been shared on Facebook, Twitter and the blogosphere.
Ads launched more than 30-days ago are not included.
1. Red Bull 'Felix Baumgartner's supersonic freefall' created in-house
425,147 shares this week
All time: 458,860 shares
2. GoPro 'Hero3 black edition' created in-house
368,947 shares this week
All time: 424,598 shares
3. Chanel No5 'there you are' created in-house
300,458 shares this week
All time: 320,825 shares
4. Ashton Bikes 'road bike party' created in-house
282,995 shares this week
All time: 609,473 shares
5. Orapup 'dogs in slow motion' by Devin Graham
171,835 shares this week
All time: 264,543 shares
6. Samsung 'introducing Galaxy Note II' by Cheil
119,311 shares this week
All time: 230,608 shares
7. Obama/Biden 'challenges' by Obama for America
83,247 shares this week
All time: 86,751 shares
8. Microsoft 'the surface movement'
72,883 shares this week
All time: 94,182 shares
9. Chanel No5 'for the first time' created in-house
63,051 shares this week
All time: 107,733 shares
10. Center for Science in the Public Interest 'the real bears' by The Butler Brothers
62,683 shares this week
All time: 77,230 shares
Follow @brproducers
This article was first published on campaignlive.co.uk
blog comments powered by

Disqus
---
Additional Information
30 Seconds to Mars stratospheric rise on social media

In the week that it was shown that users only visited the planet Google+ for less than 7 minutes a month it's interesting to look at how a contemporary rock artist brand goes about using social media in their marketing and the different levels of interest on different platforms.