---
Sainsbury's has a lot going for it, but where's the soul?
By Danny Rogers, campaignlive.co.uk, Thursday, 28 February 2013 08:00AM
"Behold the sun king?" Justin King addressed the Wacl dinner earlier this week.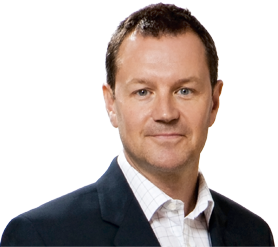 That much is in the public domain. Chatham House rules preclude me from telling you what he said, or who was there, but you can assume that the long-standing boss of Sainsbury's regaled the (predominantly female) great and good from adland with tales of the supermarket's "values" approach.
As a brand, Sainsbury's is doing pretty well. It has taken market share away from Tesco, it has shown modest sales growth at a time when consumers' budgets are squeezed.
King, now in his role for an impressive nine years, has done a good job. OK, the share price isn't exactly soaring, but the brand feels in decent shape. There is a strong CSR theme. His decision to back the Paralympic Games last year played out well, with Sainsbury's being the third-most-recalled brand in association with the 2012 Olympics and Paralympics.
Sainsbury's doesn't possess the swagger of Tesco or Asda at their best – or the lustrous narrative of Waitrose
This also boosted the retailer's already strong employee relations programme. And the Active Kids initiative – currently promoted via a David Beckham and Ellie Simmonds TV spot – is to be lauded as we struggle to create a post-Olympics sporting legacy, despite the efforts of this Government to the contrary.
And yet, Sainsbury's is a little dull. A Which? report out this week found shoppers decidedly underwhelmed. The brand doesn't possess the swagger of Tesco or Asda at their best – or the lustrous narrative of Waitrose.
Abbott Mead Vickers BBDO has been the supermarket's ad agency for an incredible 30 years now. The Jamie Oliver spots, which ended more than a year ago, were popular; but, since then, the work has been unremarkable.
On the other hand, Sainsbury's marketing is innovative. The marketing chief, Sarah Warby, is sensibly putting content at the heart of the strategy and, this week, the brand launched an ad-funded cookery show on Channel 4.
In this sense, Sainsbury's is the archetypal modern brand. Maybe King senses that safe and nostalgic is the new rock 'n' roll in recession-hit Britain. If the formula works, by all means stick to it. But still one yearns for a little more creativity and soul from the work – a little more edge and a perspective on the world.

danny.rogers@haymarket.com @dannyrogers2001
This article was first published on campaignlive.co.uk
comments powered by

Disqus
---