---
Get the stories you need sent directly to your inbox, by signing up for our bulletins
To receive our bulletins you need to be registered with the Brand Republic Group. Registration is free and only takes a minute. Register here or sign in if you already have an account.
Campaign Daily Fix
All the latest account moves, people moves, agency news and creative work from the advertising industry.
Sign up
Brand Republic News
Brand Republic's flagship morning email, delivering the latest marcomms news, insight and comment from across the industry to thousands of inboxes each day.
Sign up
The 18:05
The five things you need to know, every day, at 18:05.
Sign up
Media AM
The hottest media stories every morning, covering agencies, TV, digital, press, mobile, outdoor and radio.
Sign up
Media PM
Media Week's afternoon roundup of essential news, comment, analysis and interviews.
Sign up
Marketing Daily News
Big brand news, insight and analysis from the marketing community, covering everything from strategy and best practice to AI and wearable tech.
Sign up
The Wall
Essential updates from our digital marketing sister-blog, The Wall, bringing you trends in social, mobile and tech.
Sign up
For support please email support@brandrepublic.com or call 020 8267 8121. FAQs.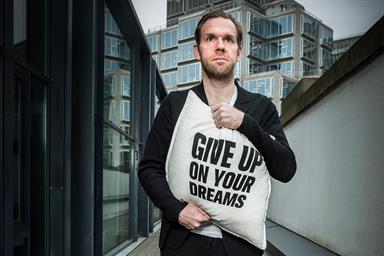 What better way to kick off Campaign's relaunch than with another think piece on the current failings of our industry, written by an embittered, pretentious creative who misses "the way things used to be"...
Digital marketing executives oversee the online marketing strategy for their organisation. They plan and execute digital (including email) marketing campaigns and design, maintain and supply content for the organisation's website(s).