---
Campaign's top ten turkeys of 2008
By Staff, campaignlive.co.uk, Thursday, 11 December 2008 11:20AM
LONDON - Campaign today unveiled its selection of the worst TV ads of 2008.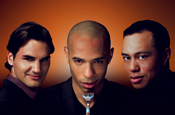 1 Gillette



Surely only suitcases full of high denomination dollar bills could have induced three of the world's most famous sports stars - Roger Federer, Tiger Woods and Thierry Henry - to appear together in this truly dire spot promoting Gillette's latest razor. The budget must have made Cristiano Ronaldo's potential transfer fee look like loose change. So whatever possessed BBDO - in Campaign's words - to hand the creative brief to a passing tramp? An own goal, a double fault and a bunker shot all rolled into one.

2 Specsavers



Edith Piaf was a troubled, tortured talent who didn't deserve to be resurrected on film singing her most famous song, Je Ne Regrette Rien, just to increase footfall at a budget optician. The Little Sparrow had to overcome many a knock in her tragic life - thank heaven she wasn't around to see this particular travesty. Regrets? Let's hope Specsavers had a few.

3 Renault



The runaway winner of this year's award for the lousiest dubbing job. This Publicis Conseil spot can't have done anything for the Renault brand in the UK, with would-be customers cringing at the disconnect between the characters' mouths and the dialogue rather than what the ad is actually about. If Renault liked the ad so much, why wasn't it re-shot with English actors? It wouldn't have broken the bank.

4 Warburtons




A rare lapse in quality from Bartle Bogle Hegarty, an agency normally so foot-sure when it comes to creativity. An overseas visitor en route to his hotel finds that every business he passes seems to bear the baker's name. No prizes for guessing whose toast awaits him on arrival at his destination. The man looks perpetually bemused by it all. He wasn't the only one. A stale idea best fed to the ducks.

5 Country Life


What do ageing punk rockers do having survived all the 70s hell-raising? They become respectable, that's what. None more so than John Lydon, aka Johnny Rotten of the Sex Pistols. For some reason known only to Grey London, he's emerged as the front man for Country Life butter. If you're wondering why, don't bother asking us.

6 Kellogg



You have to pity the director trying in vain to coax a performance out of Britain's Olympic heroine, Dame Kelly Holmes. This was clearly a hurdle too far for the former athlete, whose appeal to viewers to get a good breakfast inside them would have had more impact coming from a Star Wars robot. Not a spot that's likely to make the Cheethambell JWT showreel.

7 Orangina



Fred Raillard and Farid Mokart aren't everybody's glass of fizzy orange. The Paris-based duo have a witty but often dark creative style that can leave audiences perplexed. Certainly anybody on this side of the Channel must have wondered what their Orangina spot was all about. OK, so the drink is sexy and erotic. But what on earth has that got to do with a lap-dancing octopus and a deer simulating sex with a bear?

8 Premier Inn



The worst celebrity ad of the year is always a fiercely contested honour, but Lenny Henry's toe-curling performance on behalf of Premier Inn is a serious contender. Not only is it impossible to imagine for a minute that Henry would stay in such a place, but the one-liners are truly execrable. And can anybody explain the appearance of the plastic duck? Probably only Rainey Kelly Campbell Roalfe/Y&R.

9 Samsung



You won't see a worse own-goal than this all season. Samsung, Chelsea's shirt sponsor, gets a clutch of Stamford Bridge stars to promote its hi-tech TVs. A chance to do something really creative, you would have thought. Sadly, you couldn't be more wrong. Cheil Europe fumbled the ball spectacularly.

10 DFS



Of course, no top Turkey list would be complete without a contribution from DFS. And there are so many corkers to choose from, thanks mainly to the DFS boss Lord Kirkham's tactic of adopting the advertising equivalent of carpet bombing. We finally settled for the spot from Grattapalm showing lots of people doing silly dances and suggesting you don't need to be a rock star to afford a DFS sofa. Subtle it ain't.
This article was first published on campaignlive.co.uk
comments powered by

Disqus
---