---
ADVOCATES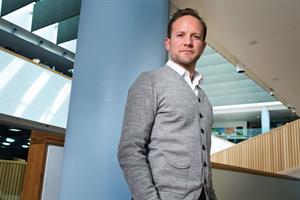 Virgin Media's marketing supremo hopes Liberty's backing and a grizzly new brand mascot can rattle Sky, John Tylee writes.
Related stories

You might be surprised to learn that Christian Woolfenden s gambling doesn t extend much beyond an occasional flutter on the horses at Goodwood. Nor, it seems, does he get his tips straight from the horse s mouth. This, after all, is a man who backed...
The marketing chief of the London transport network is looking for more sponsorship deals, John Tylee writes.
Kerry Foods' April Redmond was happy to gamble on Hank Marvin - even if she didn't get it at first, John Tylee writes.

The European marketing director is driving an education agenda in a sector weak in consumer trust. By John Tylee.
Being named Cannes' top advertiser proved a dedication to brand-building, Coke's marketing head tells John Tylee.
The Western Europe marketing chief tells John Tylee how the drinks giant is staying competitive in a volatile region.

BA's marketing head tells John Tylee that sponsorship of London 2012 and digital focus revived the airline's mojo.

Spencer McHugh, EE's director of brand, is behind the £100 million campaign to launch a 4G network, John Tylee writes.

On the back of yet another quarter of growth, and with market leader Tesco showing some chinks in its armour, Sainsbury's commercial director, Mike Coupe, is striving to continue a momentum buoyed by the Paralympics, John Tylee writes.
As the longest-serving Olympic sponsor, not to mention a leading global brand, this is a big summer for Coca-Cola. Its UK general manager, Jon Woods, is keen to show the brand's responsible side and reach its sustainability targets.

The alcohol giant's chief marketing officer, Martin Riley, has a tough challenge of promoting a large portfolio of distinctive brands, but China's thirst for premium alcohol as it flexes its economic muscle is proving quite the panacea.
Nissan UK's marcoms chief admits his team faces an interesting challenge to convince sceptical car-buyers that the Japanese marque's all-electric Leaf model will not leave them stranded on the hard shoulder with a flat battery. John Tylee reports.

The marketing director of the UK's bestselling cereal brand is upbeat about the challenge of taking it into North America by extolling the 'fuel' story and avoiding going head to head with the multinational giants of the industry.
Nick Fell, SABMiller's global marketing chief, may be in charge of a portfolio of brands covering more than 75 countries and backed by a £390 million adspend, but he believes beer is a local product that must be marketed locally.

The Virgin Atlantic head of global advertising is confident that the airline's trusted relationship with RKCR/Y&R will give it the edge as it looks to create worldwide marketing campaigns that set it apart from the competition, John Tylee writes.

The easyJet marketing director wants the carrier to be the first choice for both business and pleasure, John Tylee discovers.

Can Norwich City's promotion to the Premier League and a tie-up with children's charities do for Aviva globally what Paul Whitehouse has done for the insurance giant in the UK? John Tylee speaks to Aviva's global marketing director, Jan Gooding.
---