---
MEDIA NEWS, OPINION & ANALYSIS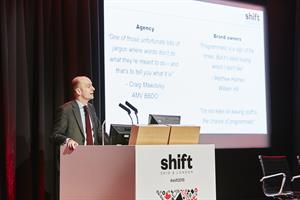 Programmatic selling and media value were central themes at the recent Newsworks Shift conference, Arif Durrani writes.
Related stories
Things We Like

Some things in the media business we liked in the week up to 27 February, and one thing we didn't...
Media Analysis
The new app promises a targeted audience, but brands must utilise this opportunity with care, David Benady writes.

Short of driving around London lobbing grenades through the windows of media agencies, Magnus Djaba could hardly have provoked a more rage-filled response from those feeling under attack. "Patronising" and "smug" are among the more printable reacti...

By putting the channel before the idea, media planners are not helping creative work reach the height of its potential, according to Magnus Djaba.

Will the broadcaster's appeal to brands and creatives deliver advertiser-funded TV ratings winners, Gurjit Degun asks.

Recent deals suggest media agencies are taking content very seriously. Can they match the specialists, David Benady asks.

The latest figures contained familiar depressing themes but also surprisingly robust performances, Sarah Tsirkas writes.

An outdoor ad once meant paper and paste. Of course, digital has changed all that. But we're just at the tip of the iceberg, Ed Owen writes.

Social media is gaining popularity in the biggest US sporting event, but measurement remains difficult.
Media Opinion

Rufus Olins never expected an easy ride when he took the role of promoting the national press to advertisers three years ago, but he would have been forgiven for thinking it might get a little easier.
What links the UK, Estonia, Israel, New Zealand and South Korea?

"There are no two words more harmful in the English language than good job ." I am still recovering from JK Simmons jazz teacher in Whiplash . I count myself among the cinephiles, but that is hardly a standout passion where I come from the land ...

There has been a lot of comment recently about the death of full-service agencies, the most appropriate architects of content and the pitfalls of media-driven communication plans. Few people left in the industry today worked in a full-service agency....
---