---
NEWS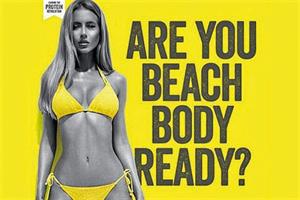 Protein World's controversial "beach body ready" poster is not offensive, according to the Advertising Standards Authority.
Related stories
---
Additional Information
Trending on Campaign

If it was a successful year for UK creativity in 2014, it was an epic one for Jean-Claude Van Damme and his entourage, Donald Gunn writes.

Planning is about people, not writing a famous blog or endless Tweeting, Lucy Jameson says.

Lindsay Pattison shares lessons from attending the World Economic Forum's annual gathering for the first time.

After a year of change, the agency has emerged with a new management team and a new way of working. But does it still have the magic touch? By James Swift.
Promoted content

Dan Ackerman, head of AOL Platforms explains why programmatic TV advertising is different - and what the future holds

Media companies need to be more clever and more accountable in these changing digital times.

With TV viewing habits changing, AOL is bringing together its programmatic platforms, moving away from context buying. In Australia, it's really working...

The inaugural Digital Cinema Media Awards is open for entries - and there's no time to waste! Check out these top tips to get your campaign noticed

Technological advances offer a wealth of opportunities for OOH but a strong strategy will always be key to success

David Ogilvy was wrong: advertising can do more than just reflect the mores of society - it can change them too
As Lions Innovation examines the role of tech in adland, here are five ways to unlock creativity in mobile