---
NEWS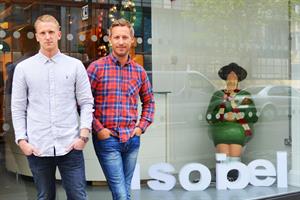 Isobel has taken on Ben Stump and Simon Findlater, creatives from CHI & Partners.
Related stories
---
Additional Information
Trending on Campaign

If it was a successful year for UK creativity in 2014, it was an epic one for Jean-Claude Van Damme and his entourage, Donald Gunn writes.

Planning is about people, not writing a famous blog or endless Tweeting, Lucy Jameson says.

Lindsay Pattison shares lessons from attending the World Economic Forum's annual gathering for the first time.

After a year of change, the agency has emerged with a new management team and a new way of working. But does it still have the magic touch? By James Swift.
Promoted content

Through the rise of social networking, technology has transformed media recruitment - but, even in the field of IT employment, it remains very much a people business.

Through mobile, brands will finally get to know their customers, says Millennial Media's Zac Pinkham.

The medium has evolved more since the inception of Media Week than in the 150 years before that. But you haven't seen anything yet, Outdoor Plus' Jonathan Lewis says
AOL's Graham Moysey steps into the DeLorean and identifies four trends that will define tomorrow's media industry. Spoiler alert: there isn't a hoverboard in sight

April's winners: Prabs Wignarajah and Jez Tribe creatives, Abbott Mead Vickers BBDO Judge: Caroline Pay deputy executive creative director, Bartle Bogle Hegarty Winning Ad: Tena Men 'Cat Choir'

Over the past few years, title sequences have come into their own as vehicles for design that are rich with both meaning and experimentation. The proliferation of great design and thinking within film and TV titles has paved the way for an important ...