---
NEWS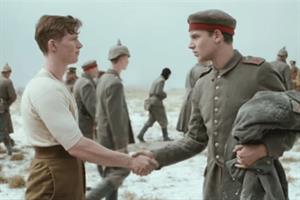 Sainsbury's has started a review of its £60 million media planning and buying business, handled by PHD for 19 years.
Related stories
---
Additional Information
Trending on Campaign

Campaign takes of look at the major Christmas ads including John Lewis, Sainsbury's, Waitrose, Asda and Debenhams, some of which have pulled at viewers' heartstrings, while others have offered up some comedy.

Sainsbury's has launched its "Christmas is for sharing" World War I ad featuring a chocolate bar the supermarket will be selling in store to raise money for the Royal British Legion.

John Lewis' festive campaign tells the tale of a boy who can't wait for Christmas so he can present his penguin friend, Monty, with the companion he has longed for.
Mulberry, the designer best known for its bags, has released a light-hearted Christmas ad campaign that plays on the secret competition families feel when giving presents to each other.
Marks & Spencer has today released its Christmas ad and has revealed it is behind the mysterious Two Fairies Twitter account.
Premier Foods will run a 30-year old Oxo ad on Christmas day as a tribute to the actress Lynda Bellingham, who died earlier this year.
Promoted content

As the world wide web celebrates its first quarter-century, its inventor, Sir Tim Berners-Lee, took to the stage at SapientNitro's latest Idea Exchange event to discuss the ways in which technology, creativity and data will shape the world of brand a...
Apologies, data-tech aficionados, but I am not going to write about the programmatic use of data in this article. Instead, I'm going to use data the way we always have: to narrow the creative field by understanding our audience's preferences better. ...

We strive for perfection. We want things to be lined up nice and tidy; understandable. So we measure, analyse and evaluate. We talk about virtuous cycles, failing fast and learning faster. Correctly, we're looking for evidence on which to base decisi...

Television consumption has changed dramatically in recent years due to the emergence of technology that allows consumers to watch whatever they want, wherever, whenever and however they want it. Now is the time for marketers to respond to this emergi...

"Rebecca Moody, your P-ness pisses on my J." So declared a board account director at a very large London agency where I once worked because I hadn't yet cracked the new radio strategy for a high-profile piece of retail business a whole two weeks befo...
Imagine you're an incoming marketing director. Ninety days.

Chris Watson, creative head, The Leith Agency, and Hugh Todd, creative director, Leo Burnett, gave us their take on a selection of ads from the month just gone.