---
Latest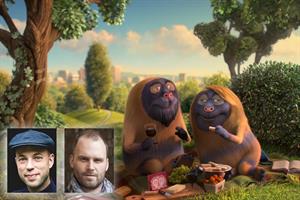 Adam & Eve/DDB's Ben Tollett and Iris' Chris Baylis review ads from Southern Comfort, Dove, Domestos, HSBC and Anchor.
Related stories
Private View Recent

Creative Tham Khai Meng Worldwide chief creative officer, Ogilvy Mather The late, great British comedian Tommy Cooper used to tell the following joke: I went to see my doctor. He said: "Say ah! " I said: "Why?" He said: "My dog died ...
Creative Dave Buonaguidi Chief creative officer, Crispin Porter Bogusky London When I look at any marketing (because I m in the game), I often ask myself: what is the ambition here and what is the problem that they (client and agency) a...

Creative Rodrigo Sobral Vice-president, executive creative director, R/GA London I was initially taken aback by the awkward feeling of publicly criticising other people s work. "I m a nice guy," I said to myself. Yes, I say things to mysel...
Creative Darren Bailes Executive creative director, VCCP It s very hard to look at Wonga s new advertising and not have an opinion of Wonga. But I will try. Branded irresponsible and thought to be taking advantage of the vulnerable in the...

Creative Emma de la Fosse Co-chief creative officer, OgilvyOne So BB King is dead. RIP, Mr King, a true gent. Apparently, he once called another, lesser-known musician over to him and said: "You know, you can say just as much with two not...

Creative Trevor Beattie Founding partner, BMB Once upon a time a mummy Audi and a daddy Audi (who loved each other very much) had a late-night unprotected axle-trembler in a car park in Bavaria. Nine months later and, like Robbie William...
Creative Russell Ramsey Executive creative director, J Walter Thompson London Welcome to this week s Crimewatch and, first of all, I d like to tell you about a robbery. It was a smash-and-grab incident involving the Paddy Power busines...
Creative Owen Lee Joint chief creative officer, FCB Inferno Odd is back. Tortoises on skateboards, a man with an Extra Strong Mint for a head and, disturbingly, a fully grown man sucking on the impressively erect nipple of a super-hero. I...

Creative Nicky Bullard Executive creative director, Lida Lection fevah. It s giving me a bloody rash. And I m still scratching it. But I think I may have cracked it. I even woke my husband up by punching him in the shoulder to let him ...

Creative Malcolm Poynton Global chief creative officer, Cheil Worldwide The joy of doing Private View is that you never know what you ll get. There are slow weeks and then, every so often, there s a flood of work from great brands. This w...
---