---
Latest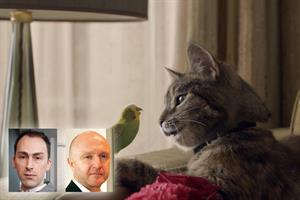 Reviewing work from Colman's, Vype, Freeview, Fifa 14 and Ovo Energy.
Related stories
Private View Recent

Reviewing ads from Haribo Starmix, Ikea, TSB, Pancreatic Cancer Action and Walkers Sunbites.

Creative Al Young Chief creative officer, Inferno DraftFCB As I write, the memory of the biggest advertising festival in the world, Super Bowl XLVIII, is slowly fading. (Or as the spellcheck on my MacBook suggests I rewrite it: "superb owl...
Reviewing work from Sainsbury's, Jaguar, Virgin Holidays, Nissan and BBC.

Reviewing work from Tetley tea, Land Rover, Original Source, Kit Kat and Axe.

Reviewing work from Cadbury, Crimestoppers, Guinness, the Army and Schwartz.
Reviewing creative work from Kingsmill, The Guardian, Hive, Gocompare.com and Innocent.

Angus Macadam and Simon Gill review new work including creative from Public Health England's anti-smoking campaign and work from Virgin Active, Paddy Power and Hyundai.

Reviewing ad creative from Google Nexus 7, Baileys, Volvo Trucks, Sony PlayStation and Everline

Reviewing Christmas work offerings from Marks & Spencer, John Lewis, Tesco, Sainsbury's and Asda.
Creative Carlo Cavallone Executive creative director, 72andSunny Amsterdam As we enter the holiday season and the spirit of Christmas, Kwanzaa and Hanukkah descends upon us, advertising mutates into the usual display of evilness. Brands and...
---