---
Latest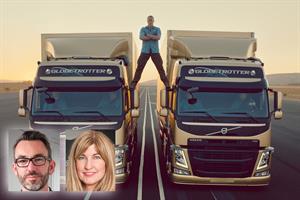 Reviewing ad creative from Google Nexus 7, Baileys, Volvo Trucks, Sony PlayStation and Everline
Related stories
Private View Recent

Reviewing Christmas work offerings from Marks & Spencer, John Lewis, Tesco, Sainsbury's and Asda.
Creative Carlo Cavallone Executive creative director, 72andSunny Amsterdam As we enter the holiday season and the spirit of Christmas, Kwanzaa and Hanukkah descends upon us, advertising mutates into the usual display of evilness. Brands and...
Creative Geoff Gower Managing partner, creative, AIS London Like everyone who checks their phone every eight seconds in the desperate hope that something anything might have happened, I am severely lacking patience. I fear boredom like...
Reviewing work from Zopa, Barclaycard, Halfords, Eurostar and Paddy Power.

Reviewing work from Public Health England, Honda, Volvo, E.ON, Samsung.

Reviewing work from Mercedes-Benz, Baileys, Freeview, Freesat and Aunt Bessie's.

Reviewing work from Imperial Leather, Suzuki, Camelot, Mercedes-Benz, Calrbserg.

Reviewing creative from EE, Mikado, Lloyds Bank, Shreddies and St John Ambulance.

Creative John Townshend Creative partner, Now None of the ads this week are really awful. None are really great. It s an average week in adland. I m imagining the meeting when the Ibuleve campaign was presented: "We have a great campai...
Reviewing work from TSB, Smirnoff, East Coast! National Accident Helpline and British Airways.
---