---
Latest Work

Creative Daniel Bonner Global chief creative officer, Razorfish You know how this works: Campaign has kindly asked for my opinion on five projects. For fairness, I have decided to think like a "real person" not an advertising person...
Creative Gerry Moira Chairman and director of creativity, Havas Worldwide London Anna Kendrick (Up In The Air, End Of Watch etc) talks into her dressing-room mirror. She tells us of the Super Bowl beer commercial that never was thanks to t...

Creative Andy Sandoz Creative partner, Havas Work Club Rust Cohle tells me: "Time is a flat circle." So to compare Land Rover s "can and will" to Channel 4 s "meet the superhumans" is understandable, if a little unfair, given the latter...

Creative Dave Trott Chairman, The Gate London Morrie is always getting earache from his wife. She tells him: "Look at you you re a schmuck. You dress like a schmuck. You talk like a schmuck. You even walk like a schmuck." Morrie say...

Creative Mark Roalfe Chairman, Rainey Kelly Campbell Roalfe/Y R When I got this week s Private View, I received a note saying "Really pleased you re doing it this week as it s our Cannes issue" and I felt a little flattered. Then I sat dow...

Creative Tham Khai Meng Worldwide chief creative officer, Ogilvy Mather For most people, Cannes is synonymous with those celebrated storytellers: the movie-makers. But we are storytellers too and I think we should be unashamed about...
Pick of the week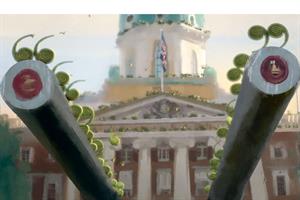 James Swift thinks Imperial War Museums First World War ad is worth remembering: "There s a simple concept underpinning the stunning artwork that holds together without mawkishness." It was written by Paul Domenet, art directed by Pia Knight and dir...
Turkey of the week
Jeremy Lee thinks the Flava-It campaign has put advertising back by a few decades: "Some people at a hipster party share some meat baps, then one of the girls goes on a suggestive journey riding an anime sausage all in the name of mixed herbs. Not ...
---