---
Channel 4 'gypsier' ads banned
By Maisie McCabe, campaignlive.co.uk, Wednesday, 03 October 2012 12:01AM
Channel 4 ads featuring an aggressive-looking young boy and teenage girls in low-cut tops as part of a campaign for 'Big Fat Gypsy Weddings' have been banned after complaints they were racist and sexualised a child.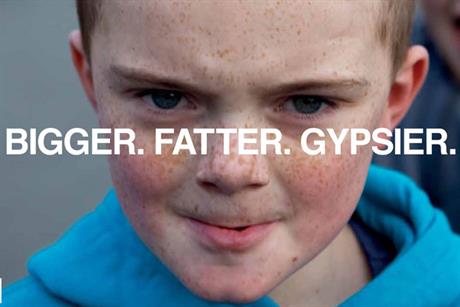 The Advertising Standards Authority (ASA) found the two outdoor and print ads, which were designed by Channel 4's in-house team, 4Creative, and featured the tagline 'Bigger. Fatter. Gypsier.', were "offensive".
Both ads were found to be offensive because they reinforced negative images of the gypsy and traveller community – namely that its younger members were aggressive and that the dressed-up teens were typical of their community.
One of the two young women in the second ad was 15 when the photograph was taken and so the ASA found Channel 4 had "acted irresponsibly by depicting a child in a sexualised way".
Although Channel 4 had received the teenagers' parents' consent for her to be included in the campaign, and she had turned 16 by the time it began, the ASA found the ad was "likely to be harmful" to the girl featured.
The ASA found the ad featuring the young boy reaffirmed commonly held prejudices about gypsy and traveller children in a way that was "likely to cause distress and mental harm" to children from those communities.
The ASA originally decided in February that it would not investigate the ads, but reversed that decision after it was made aware that representatives from the travelling community (the Irish Traveller Movement in Britain) had complained.
Yvonne MacNamara, chief executive of the ITMB, said: "The ITMB applaud the decision of the Advertising Standard Authority. As a result of this decision, Channel 4's 'Big Fat Gypsy' brand has been held up to be morally bankrupt.
"In its evidence to the ASA investigation, the Equalities and Human Rights Commission described anti-gypsy and traveller racism as the last respectable racism. The ASA has today made clear that it is no longer acceptable.
"This is a stunning victory for travellers and gypsies. The ASA has condemned Channel 4's advertising campaign for the appalling harm it has done to the mental and moral well-being of gypsy and traveller children. It has done this in unequivocal terms and Channel 4 should hang its corporate head in shame.
"The ITMB and the gypsy and traveller co-complainants call upon those responsible for these adverts to issue a full apology for the harm they have caused to children with their offensive campaign. We call on Channel 4 to repair the incredible harm they have done to the UK's most vulnerable minorities."
Another ad campaign featuring younger girls in dressed for their first holy communion and an ad featuring a grown man with a horse were not banned despite complaints from the ITMB.
A Channel 4 spokesperson said: "It was not Channel 4's intention for these adverts to cause offence, but we are sorry this was the case among some members of the gypsy and traveller community.
"All responsible action was taken pre-publication: the posters were voluntarily submitted to the industry's independent CAP copy advice team who advised that they believed they complied with the advertising code; consent was obtained from contributors, and the posters were shared with those featured, who had no objections."
Follow @MaisieMcCabe
This article was first published on campaignlive.co.uk
blog comments powered by

Disqus
---
Additional Information
Pinterest takes big step towards working with major brands

Pinterest is getting closer to big brands as it announces three new types of pin that will highlight major US retailers.

It marks Pinterest's first step towards associating images directly with brands and could be the beginning of a change on the social network that sees it become a marketplace as well as a site where people pin ideas of things they like or that inspire them.