---
Ryanair's Michael O'Leary on the environment, agencies and the recession: 10 outrageous quotes
By Staff, marketingmagazine.co.uk, Tuesday, 26 July 2011 08:30AM
The Ryanair chief executive is a brand in his own right: at best, he calls a spade a spade, at worst he is the post-PC scourge of the airline industry and its authorities. O'Leary may be embracing green issues now, but this hasn't always been his stance, as the quotes here show.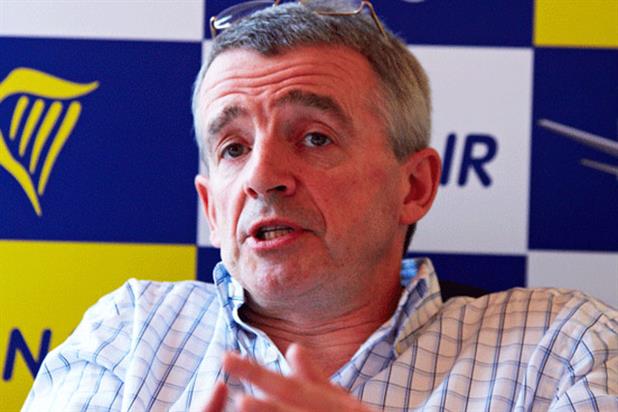 On the recession and the environment
"We would welcome a good, deep, bloody recession for 12- to 18-months [to stop governments from introducing green taxes]. We need one if we are going to see off some of this environmental nonsense that has become so popular among the chattering classes." [from February 2008]
"We need a recession. We have had 10 years of growth. A recession gets rid of crappy loss-making airlines and it means we can buy aircraft more cheaply." [November 2008]
"The best thing we can do with environmentalists is shoot them. These headbangers want to make air travel the preserve of the rich. They are Luddites marching us back to the 18th century." [November 2005]
"The problem with the airline business is it is mostly run by a bunch of spinless nincompoops who actually don't want to stand up to the environmentalists and call them the lying wankers that they are."
On easyJet's brand and chief executive
"[Ex-Guardian boss Carolyn McCall is] some old media luvvie. I'm looking forward to meeting her at some conference in Tora Bora when I've retired." [October 2010]
[On Stelios landing a large fee for use of the easyJet brand name] "It's fantastic. £10m a year for a crappy brand like easyJet. Luckily Mr Ryan [Ryanair founder Tony Ryan] isn't alive. If he'd asked for £10m just for the name, I'd tell you what I'd do: I'd ------- change the name." [October 2010]
On ad agencies
"Every idiot who gets fired in the industry shows up as a consultant somewhere. Shoot consultants and advertising agency specialists." [October 2005]
On customers
"People say the customer is always right, but you know what - they're not. Sometimes they are wrong and they need to be told so."
On increased security checks at airports
"You don't see the government confiscating lipsticks and gel-filled bras on the London Underground. Most of them couldn't identify a gel-filled bra if it jumped up and bit them."[2006]
On Ryanair's plans for a transatlantic service
"In economy, no frills, in business class it'll all be free - including the blowjobs." [2008]
Sources: telegraph.co.uk, allgreatquotes.com, 'Plane Speaking: The Wit and Wisdom of Michael O'Leary' by Paul Kilduff

This article was first published on marketingmagazine.co.uk
comments powered by

Disqus
---