---
Big awards 2011: The Gold Winners in pictures
campaignlive.co.uk, Thursday, 27 October 2011 12:20PM
View all the Gold Award winning campaigns for last night's Big Awards including a full list of the Gold winners with credits.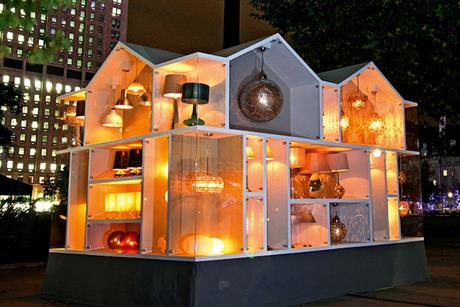 Chairman of the Campaign Big Awards, Ben Priest, says: "Judging by the depth and quality of this year's gold award winners, UK creativity is in good shape."
"I won't lie to you - being the chairman of the Campaign Big Awards was not an onerous task. In fact, I'll go further than that - it was downright enjoyable. At the end of judging week, I returned to the day job with a spring in my step, feeling invigorated and inspired.
"I'd spent time immersing myself in the very best work the UK has to offer across interactive, film, direct, radio, print, outdoor and integrated. I'd had the pleasure of sitting in on all the juries, listening to talented people from all corners of the business discussing the entries.
"They'd happily given up their time to judge, fighting passionately for work they believed in and questioning anything they felt wasn't quite up to the mark. They took real pride in their task and no wonder; after all, the Big Awards are "our" awards.
"There are other, well-respected events that reflect what's going on globally but the Big Awards are UK-focused and a clear indication of the health of the nation's creativity.
"From the winners featured on the following pages, I'd say we're in pretty good shape. The interactive and integrated entries were once again both rich and varied. TV seems to be in positively rude health. Outdoor had an interesting mix of traditional and non-traditional entries. In fact, only radio, print and direct seemed to be a little under-nourished.
"On a personal note, I'd like to offer my congratulations to all of the winners. I hope you had a great evening because you earned it.
"My thanks go to the jurors, all of the agencies who spent both time and money entering their work and, lastly, to Campaign, for continuing to support and develop this scheme.
"It provides us all with an invaluable record of our year. It's a true reflection of the multi-disciplinary world we live and work in. And, last but by no means least, the whole thing finishes with a big, shiny night out.
"Yep - being chairman may not be the most difficult job that I've ever done but it certainly was one of the most enjoyable."
Ben Priest is a creative partner at Adam & Eve and the chairman of the Campaign Big Awards
The Big Book 2011 is published on 25 November. In order to purchase copies, visit www.thetrophyshelf.co.uk
The Gold Award Winners
GOLD: Film Individual
Title: Cats
Client: Ikea
Brand: Ikea
Managing director: Anna Crona
Advertising manager: Geri Stewart
Agency: Mother
Creative directors: Robert Saville, Mark Waites, Stephen Butler, Feh
Tarty
Art directors: Tim McNaughton, Freddy Mandy
Writers: Tim McNaughton, Freddy Mandy

GOLD: Press Individual / Press campaign
Titles: Girl On Bike (individual), Texting (campaign)
Client: Tower Hamlets Council
Brand: Texting While Driving
Head of commercial operations: Chris Payne
Agency: Abbott Mead Vickers BBDO
Creative directors: Mike Hannett, Dave Buchanan
Art director: Antony Nelson
Writer: Mike Sutherland
Photographer: Trevor Ray Hart
Art production: Simon Pedersen
Typography: Aaron Moss
Retouching: Mark Deamer

GOLD: Outdoor Individual
Title: Harmony House
Client: John Lewis Partnership
Brand: Home
Director of marketing: Craig Inglis
Marketing manager: Anna Braithwaite
Agency: Adam & Eve
Creative directors: Ben Priest, Ben Tollett, Emer Stamp
Art directors: Simon Lloyd, Christine Turner, Nici Hofer
Writers: Simon Lloyd, Christine Turner
Production designer: Philippa Culpepper
Director of photography: Will Bex
Lead designer: Tommi Eberwein

GOLD: Outdoor Individual
Title: Passport Stamps
Client: Land Rover
Brand: Defender
National communications manager: Les Knight
Agency: Rainey Kelly Campbell Roalfe/Y&R
Executive creative director: Mark Roalfe
Art director: Tim Brookes
Writer: Phil Forster
Typographer: Lee Aldridge
Photographer: Carl Werner

GOLD: Interactive Individual / The Arden Award
Title: Tate Movie Project
Client: Tate
Brand: Tate
Creative director: Tate Jane Burton
Senior marketing manager: Tate Sarah Briggs
Agency: Fallon London
Creative director: Richard Flintham
Art director: Matt Keon
Writer: Matt Keon
Animation: Aardman Animations

GOLD: Film campaign
Title: More Th>n Freeman
Client: More Th>n
Brand: More Th>n
Chief marketing officer: RSA Group Pete Markey
Head of marketing More Th>n: Nicola Carver
Brand: manager, More Th>n: Tim Dixon
Agency: SFW (part of the VCCP Partnership)
Creative director: Neil Francis
Art director: Andrew Parsons
Writer: Fred Rodwell
Creative producer: Vicki Pettifer

GOLD: Outdoor campaign
Title: Say It To Get It
Client: Google
Brand: Google Voice Search Mobile App
Agency: Bartle Bogle Hegarty
Creative director: Ashidiq Ghazali
Art director: Matt Fitch
Writer: Mark Lewis

GOLD: Integrated campaign
Title: Who Killed Deon?
Client: The Metropolitan Police
Brand: Knife Crime
Assistant director of marketing: Stephanie Day
Agency: Abbott Mead Vickers BBDO
Creative directors: Steve Jones, Martin Loraine
Art director: Laurent Simon
Writer: Aidan McClure
Production: Mad Cow
Online production: The Mill
This article was first published on campaignlive.co.uk
blog comments powered by

Disqus
---
Additional Information
Highest rated
Agency: VCCP

Rating: 5.0

Rating: 5.0
Hey, businesses: ditch YouTube and Head over to Vine

Video marketing for businesses can be a tough game to play. The video landscape is full of funny pranks and comedy acts, so finding an area to put your real content where it will be viewed is difficult. Many businesses are attracted to YouTube, as they boast six billion hours of video viewed. So, they figure, hey why can't I get some of those hours. The problem is: YouTube's viewed content is dominated by shows and comedy.