---
T-Mobile tops most popular YouTube ads in UK
By Sarah Shearman, campaignlive.co.uk, Tuesday, 06 December 2011 09:12AM
Ads from T-Mobile, Google Chrome and Asos were the most popular with UK viewers on YouTube this year, according to data from Google.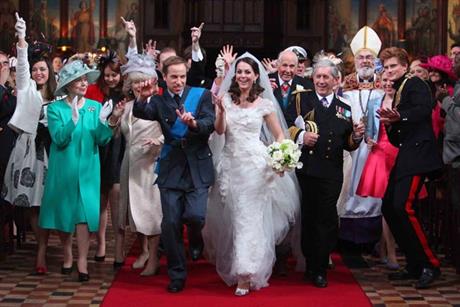 Google has not broken out the numbers of how many UK viewers watched the ads on the video-sharing site, but has ranked them in order of popularity in the region.
T-Mobile's spoof of the Royal Wedding, featuring Prince William and Kate Middleton lookalikes, created by Saatchi & Saatchi, has come out as the top ad of the year among UK viewers. It has been viewed around 24,485,000 times globally since it launched in April.
Google Chrome's ad featuring Jamal Edwards, created by BBH London, is the second-most-popular, followed by the preview of the Asos Urban tour of London, by the same agency.
Despite having rolled out just last month, John Lewis's Christmas ad, created by Adam & Eve, registered as the seventh-most-popular spot.
Other brands that made it into the top 10 include Volkswagen, Listerine, Kia, Twinings, Flora and Nokia.
Dara Nasr, industry head of display for YouTube UK said 2011 had been "a bumper year" for online video advertising.
He said: "Advertisers are increasingly taking advantage of the social nature of online video by creating ads that are likely to be shared, liked and commented on."
Nasr added that with 48 hours of video uploaded to YouTube every minute globally, advertisers had to ensure their ads stood out on the site.
In order to do so he suggested they tell a story, engage a community, and are clear and concise. He also said advertisers should consider making original or interactive video content, promoted via paid for media.
Follow Sarah Shearman on Twitter @Shearmans
The 10 most popular ads on YouTube in the UK this year:
1. T-Mobile, 'The T-Mobile Royal Wedding' by Saatchi & Saatchi, production Gorgeous
2. Google Chrome, 'Jamal Edwards' by BBH, production The Mill
3. Asos, 'The Asos Urban Tour of London Preview' by BBH, production Stink Digital
4. Volkswagen, 'The Force' by Deutsch USA
5. Listerine, 'Listering Mouth vs. Life' by JWT
6. Kia, 'The New Kia Picanto' by David & Goliath
7. John Lewis, John Lewis Christmas Ad 2011 ('The Long Wait') by Adam & Eve
8. Twinings, 'Gets back to you' by Abbott Mead Vickers BBDO
9. Flora, 'Flora Cuisine Vernon and Gladys introduce a new way to cook' by DDB UK
10. Nokia, 'Nokia N8 Pink Freedom' by Wieden+ Kennedy, US
This article was first published on campaignlive.co.uk
blog comments powered by

Disqus
---
Additional Information
30 Seconds to Mars stratospheric rise on social media

In the week that it was shown that users only visited the planet Google+ for less than 7 minutes a month it's interesting to look at how a contemporary rock artist brand goes about using social media in their marketing and the different levels of interest on different platforms.