---
Advertising Network of the Year: BBDO Worldwide
campaignlive.co.uk, Thursday, 15 December 2011 08:00AM
A stunning year in terms of new business saw BBDO Worldwide win every global pitch it contested - and duly return to the top of the network pile.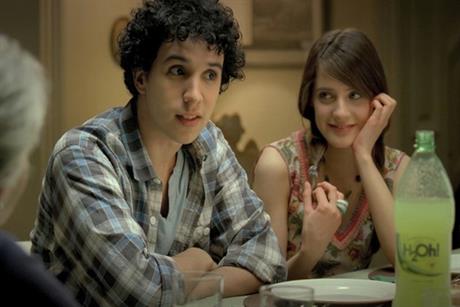 Some people could see BBDO being named Campaign's Advertising Network of the Year as normal service resumed. Before DDB Worldwide and Wieden & Kennedy won the award in 2009 and 2010 respectively, BBDO had taken the title in three of the previous four years and only narrowly missed out to Euro RSCG in the other.
But the network doesn't feature at the top of these lists by default. And with extremely tough competition from Ogilvy & Mather in particular, it had to work incredibly hard this year to secure the number-one spot.
The results have been striking. BBDO won every global pitch that it went for, and also saw substantial growth with a number of existing clients.
The year started well when it scooped the $200 million BlackBerry account, and winning became a habit in 2011 with global business awarded from SC Johnson, Cutty Sark, Western Union and ExxonMobil.
In November, the network's New York office won the Foot Locker advertising account in the US, while its sister agency Abbott Mead Vickers BBDO was hired separately to handle the sportswear retailer's pan-European marketing work.
Another pivotal new-business moment came in June, when Mars expanded its relationship with BBDO. The move saw the network pick up new work from Twix, Pedigree and Whiskas, meaning that it now handles the advertising for 13 of Mars' 16 global brands.
Extra business also came from PepsiCo, which handed BBDO its Quaker business in North America, and Wrigley, which appointed the network to handle the global digital account for Orbit, Extra and Freedent.
But it wasn't just new business coming through the door - a number of appointments were made to boost the network's senior management teams. These included Troy Ruhanen, who was promoted to chairman and chief executive of the Americas. The strong management team is spearheaded by Andrew Robertson, BBDO's worldwide chief executive; David Lubars, its chief creative officer; Chris Thomas, the chairman of Asia, the Middle East and Africa; and Farah Ramzan Golant, the executive chairman of AMV BBDO.
But it's the Americas that is really leading BBDO's creative charge.
BBDO New York continued its excellent work for Gillette and AT&T, while the Chicago-based Energy BBDO created a series of amusing commercials for Orbit. In Canada, BBDO Toronto's work for Skittles - a client that regularly pulls in awards for the network - drew admirers, particularly an interactive online ad that featured a man dressed as a cat licking the user's computer screen.
South of the equator, BBDO Argentina and the Sao Paulo-based AlmapBBDO provided some of the best work to come out of the region, working across an ever-increasing client list.
BBDO Argentina's "voice of the stadium" ad for Nike stirred a sense of passion that we've come to love from the brand's campaigns, while it also created a humorous TV spot for the drinks brand H2OH!.
In Brazil, Almap launched a number of high-profile campaigns for Volkswagen, as well as a TV ad for Doritos that encouraged teenagers to share crisps rather than embarrassing secrets.
And then, of course, there's AMV BBDO in the UK. You'll see from elsewhere in this Annual that the agency came within a whisker of scooping the Agency of the Year award, and for good reason. As well as enjoying a strong new-business year, it made significant strides in the digital arena, creating innovative campaigns such as "The Nightjar" for Wrigley, "escape the map" for Mercedes-Benz and "Dip Desperado" for Doritos.
The agency also had a good year at the major awards ceremonies, picking up the first-ever Creative Effectiveness Grand Prix at Cannes and three golds at the Campaign Big Awards.
In fact, the awards were flowing across the network. For the fifth successive year, BBDO was the most-awarded network in The Gunn Report and at Cannes. It was also the most-awarded network for the fourth year running in The Big Won, and at the Clios.
Ogilvy & Mather

If BBDO has become a regular feature in this category, Ogilvy & Mather's appearances have been far more fleeting. But, this year, the network has come on in leaps and bounds, particularly through its investment in new creative talent, and could easily have taken top spot if it wasn't for BBDO's stunning year.
On the 100th anniversary of David Ogilvy's birth, the agency enjoyed a hugely successful Cannes, winning 12 golds, 17 silvers and 32 bronzes, with O&M Argentina named Direct Agency of the Year. Meanwhile, away from the palais, the network rolled out a one- and-a-quarter-mile red carpet in Cannes to celebrate the centenary.
Success at Cannes by no means meant job done for O&M on the creative front, though, and few networks can claim to have made as many pivotal hirings in this field this year.
In the UK, Gerry Human was named O&M London's new executive creative director, while AKQA's group creative director, John Jakubowski, took on a similar role in the Asia-Pacific region.
Elsewhere, Ivan Gonzales was appointed the digital creative director of Ogilvy Mexico, while OgilvyOne New York hired Alfonso Marian as the chief creative officer from Shackleton Madrid.
Perhaps the most high-profile appointment made by the network this year took place in May, when it hired M&C Saatchi's executive creative director, Graham Fink, as the chief creative officer of Ogilvy China.
The move underlined O&M's ambition in Asian markets, and it's clear that the network is among the frontrunners in the industry's race out East. Around 4,000 staff work in China alone - spread across 17 offices - with a client list that includes Kraft, BP and Motorola. O&M is also the market leader in India, and the network has invested heavily in Indonesia, Vietnam and Pakistan. That investment in the region already appears to be bearing fruit, with Google hiring the network to handle its Asia-Pacific marketing work.
Other notable new-business wins included Grant Thornton (global), Gap (US), Europcar and Diageo (pan-Europe), and Coca- Cola (Latin America).
There was also the small matter of the $1 billion SC Johnson global advertising business, which was split between O&M and BBDO in July.
It all meant that O&M was rarely out of the news this year, but it was usually for all the right reasons. The network will now be keen to build on this momentum as it heads into 2012, with a lot expected from the team of senior creative directors that the worldwide chief creative officer, Tham Khai Meng, has put together. Having pushed BBDO extremely close this year, don't be surprised to see O&M gunning for top spot in next year's Advertising Network of the Year list too.
Recent winners: Wieden & Kennedy (2010); DDB Worldwide (2009); BBDO (2008); BBDO (2007); Euro RSCG (2006)
BBDO WORLDWIDE'S 2011
January: Research in Motion moves the global creative responsibilities for its BlackBerry brand from Leo Burnett to BBDO after a pitch.
June: Mars consolidates its advertising business into BBDO and DDB. BBDO now leads the global creative and strategic duties for Snickers, Mars, Galaxy, Pedigree, Whiskas and Twix. BBDO is the most-awarded network at Cannes, with Abbott Mead Vickers BBDO winning the Creative Effectiveness Grand Prix for Walkers.
July: SC Johnson splits its $1 billion advertising business between BBDO and Ogilvy & Mather. The network promotes Troy Ruhanen to chairman and chief executive of the Americas. The BBDO Asia chairman, Chris Thomas, adds the Middle East and Africa to his remit.
November: BBDO wins the $200 million global ExxonMobil account from McCann Erickson. The network also scoops Foot Locker's advertising business in Europe and the US.
This article was first published on campaignlive.co.uk
blog comments powered by

Disqus
---
Additional Information
Forget the digital cluster bomb – be more like Bob

It's said that the average person is exposed to 30,000 marketing messages a day. To me that's worrying news for us marketers – especially if it's your job is to build marketing relationships with consumers.