---
ASA clears Channel 4's 'Bigger. Fatter. Gypsier' ads
By Maisie McCabe, campaignlive.co.uk, Wednesday, 22 February 2012 02:45PM
Channel 4's controversial ad campaign for the TV show Big Fat Gypsy Weddings will not be investigated by the Advertising Standards Authority.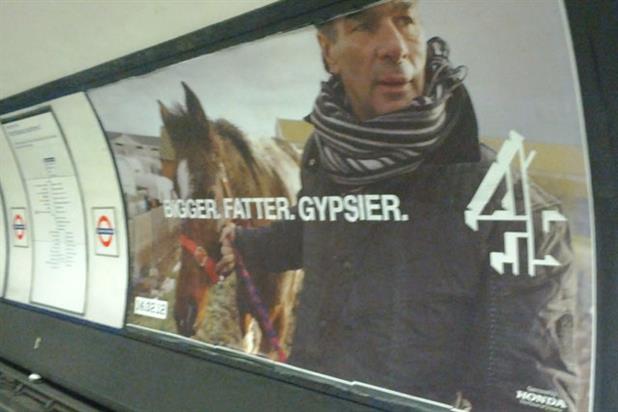 The ASA received 316 complaints about the ad campaign, which shows the tagline "Bigger. Fatter. Gypsier" against a photo of two traveller boys and another of dressed-up young girls. The campaign was created by Channel 4's in-house operation, 4Creative.
The ASA has been considering the complaints for the past week and has now decided not to investigate the campaign.
The general nature of the complaints to the ASA were that the ads were offensive because they were racist and denigrated Gypsy and traveller communities and that the ads featuring children were offensive, irresponsible and harmful because they might encourage bullying.
A spokesman for the ASA said: "We carefully considered the complaints and, while we acknowledged that the ads might not be to everyone's taste, we noted that both the images and the text reflected the tone and content of the programme they promoted.
"For these reasons, we did not consider the ads were likely to cause serious or widespread offence or be seen as irresponsible or harmful and will not therefore be taking any further action."
Earlier this week, the programme's sponsor, Honda, distanced itself from the programme and the ad campaign, but then updated its statement to say it had approved the campaign as recently as last week.
In an updated statement, Paul Ormond, the general manager, corporate affairs, at Honda UK, said: "Both Honda and Channel 4 approved the poster campaign, which uses the word 'Gypsier' – the focus of complaints.
"The word 'Gypsier' refers to the fact that the series provides greater insight into the communities featured – it was never intended to be offensive."

Earlier this week 17-year-old Romany gypsy Pip Mckenzie wrote an open letter to Channel 4 on his blog in which he told of how the last series of 'Big Fat Gypsy Weddings' contributed to the bullying of traveller children.

Mckenzie said he was disappointed with the ASA's decision. He said: "I have received a lot of support from the gypsy and traveller community as well as the settled community who have expressed their anger both with the advertising campaign and the show itself.

"It is unfortunate that the ASA seem oblivious to the public outrage at Channel 4. However with the issue receiving a lot of media attention I hope that this will not be the last we hear of it.

"The campaign for equality for gypsies and travellers has strengthened significantly since the Dale Farm eviction and with support growing everyday I am confident Channel 4 will see the errors of their ways."

Follow Maisie McCabe on Twitter @MaisieMcCabe
This article was first published on campaignlive.co.uk
comments powered by

Disqus
---