---
Shreddies and Cheerios fight croissants in breakfast ads
By Loulla-Mae Eleftheriou-Smith, campaignlive.co.uk, Tuesday, 13 March 2012 09:38AM
Nestlé cereal brands Shreddies and Cheerios fight croissants and muffins in a new campaign created by McCann London to educate consumers about the nutritional value of different breakfasts.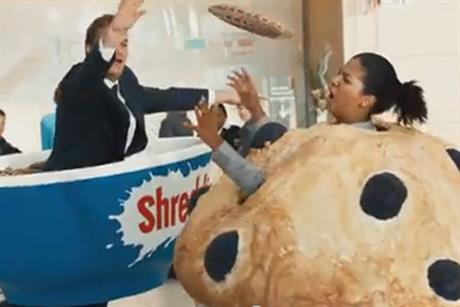 Cereal Partners, which makes Nestlé's cereal brands in the UK, hired McCann London to demonstrate to the public that not all breakfasts are equally nutritious.
An online ad, called "battle of the breakfasts", shows giant bowls of Cheerios, Shreddies and Nesquik fighting against some jam on toast, a croissant and a muffin, while a voiceover describes the action in the style of a sports commentator.
The ad broke this week and is supported by press executions in national newspapers and women's magazines, featuring the same characters. The press ads also directly compare the calorie, sugar, fat, saturated fat and salt content in each breakfast option.
Consumers will also be invited to a dedicated website, www.battleofthebreakfasts.co.uk.
Ronnie Parry, marketing director at Cereal Partners, said: "Breakfast cereals have been a cornerstone of the British breakfast for decades, but sometimes are overlooked in the morning rush, or with the variety of alternatives that are now available.
But the latest Nestlé cereals portfolio advertising campaign may well surprise people, and hopefully encourage consumers to reconsider what they eat for breakfast, and remember why cereals are such a great choice."
Creative directors John Hurst and Sarah Clift worked on the ad, with art director Darran Solan, copywriter Graham Ensor, director Theo Delaney, and with production company Hotspur & Argyll.
In January last year, McCann London created a multimillion-pound campaign for Shreddies, as the brand sought to target younger consumers.
Follow Loulla-Mae Eleftheriou-Smith on Twitter @LoullaMae_ES
This article was first published on campaignlive.co.uk
blog comments powered by

Disqus
---
Additional Information
Forget the 'Store of the Future'; brands need to think about the store of tomorrow

Technological innovations are everywhere, and while we may hear about a number of fascinating new developments, few will actually truly define the future of retail. Considering the changing landscape, technology is irrelevant if you don't first understand both the behaviours and motivations of consumers in a hyper-connected, multi-channel world.