---
Promotional Feature
Jagermeister
marketingmagazine.co.uk, Tuesday, 22 May 2012 12:00AM
Much loved by rock bands and fans, the herbal liqueur's distinctive bottle reflects its North German heritage.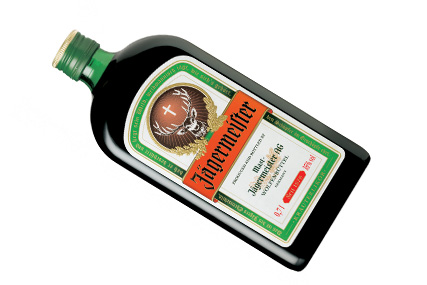 The herbal liqueur Jagermeister was created by Curt Mast in Wolfenbuttel, Germany, in 1935.
Taking over his father's vinegar production plant in 1918, Mast changed the direction of the company and began dealing wine. He also began experimenting with the production of spirits, naming one of his first creations Burning Affection.
By 1934 he had hit upon a liqueur recipe made with 56 herbs, blossoms, roots and fruits. The name Jagermeister, literally meaning 'hunt master', was said to be inspired by the traditions of the region, where herbal liqueur was a frequent post-hunt drink.
On the label, Mast placed the first stanza of The Hunter's Song, written by poet and hunter Oskar von Riesenthal. The Jagermeister logo, of stag and gleaming cross, was derived from Saint Hubertus, patron saint of hunters.
The company's portfolio grew with spirits such as Korn und Kimme, a caraway schnapps, and Boonekamp, a bitter spirit. Only Jagermeister and Schlehenfeuer, a wild fruit liqueur, remain today.
The popularity of Jagermeister grew and led to a growing export market in Scandinavia, Austria, the Benelux region and the US in the 60s. Over time it has conquered further markets as far afield as South America, Africa, Australia and Asia.
In recent years, the popularity of the digestif has gone from strength to strength. Last year Jagermeister achieved record sales of 87.1m bottles and ranked eighth on Impact Databank's Top 100 Premium Spirits List, by retail sales value, ahead of big name spirits such as Baileys and Jim Beam.
Today, about 80% of total sales come from outside Germany. Jagermeister's biggest markets are the US (where it is the bestselling imported liqueur), the UK (where sales have increased six-fold since 2007), Italy and Hungary, as well as its home market.
While the product and vivid green bottle remain the same, the image and reputation of the brand is tailored to each market. In much of Europe, the drink remains familiar to many as a digestif, while in the Netherlands traditional pubs serve it from a unique, rotund bottle to fit the round cooling racks behind the bar. In the US, Jagermeister is more familiar served sub-ice-cold on tap and in the UK often as a shot mixed with Red Bull.
In recent years the brand has cultivated associations with rock music, sponsoring festivals such as Download and Ozzfest as well as its own Jagermeister Music Tour, creating a party-loving image that has been widely credited for its strong performance.
The company's headquarters remains in Wolfenbuttel, on a street renamed Jagermeisterstrasse, under the ownership of the Mast family.
---
BRAND LESSON
Andy Knowles, chairman, JKR
Like Danny DeVito, Jagermeister demonstrates that popularity need not depend on either stature or beauty. Its packaging is a car-crash of an old-school Gothic logo-type atop a blaze of bright orange on a scrum-hooker bottle, but it oozes authenticity and power. Perhaps Jagermeister is so kitsch it's cool?
Among more sophisticated peers it is certainly something of an iconoclast, but its butch name and packaging bestow on it a character the logic of group discussion would never predict.
Logic be damned. Brands accrue meaning from use, not the other way around, and younger drinkers will frequently make traditional brands contemporary by bending them to their cause.
The now ubiquitous Jagerbomb could be put down to a lucky bounce - like cider over ice. The idea was adopted and disseminated by cutting-edge consumers and bartenders. We should, however, recognise that the initially unappealing package was imbued with charisma by the innovative marketing of wily distributors Sydney Frank Importing. Godfather to many a premium drink, including Grey Goose, it fuelled Jagermeister's export growth by first introducing it to US drinkers with a squad of shapely ambassadors in the on-trade.
Jagermeister's now triumphant place near the top of the global spirits sector is testimony to how distinctive design, if given the time to wear in, provides enduring gain.
---
TIMELINE
1878: Wilhelm Mast opened a vinegar production plant. It served the nearby mines, which used it to cool the rocks before extraction.
1947: His son, Curt Mast, who had branched out into spirit-making in the 30s, resumed production following a hiatus due to World War II.
1972: Jagermeister began sponsoring motor-racing, including teams in Formula One and the German Touring Car Masters. It continued until 2000.
1973: The Jagermeister logo appeared on the shirts of players at Eintracht Braunschweig football club. A brief legal battle with the German Football Association led to the brand becoming the first to advertise on team shirts in the German football league.
2010: Jagermeister achieved record sales of 82.4m bottles, despite the onset of the global economic crisis. The UK became the drink's third-biggest market, following Germany and the US.
2011: The drink once again achieved record sales, with 87.1m bottles sold in more than 90 countries. Sales in the UK exceeded 5m bottles for the first time.
This article was first published on marketingmagazine.co.uk
comments powered by

Disqus
---