---
Campaign Viral Chart: Channel 4 and adidas 'take the stage'
By Staff, campaignlive.co.uk, Friday, 27 July 2012 09:30AM
Channel 4's Paralympics spot and David Beckham's surprise appearance in an adidas photo booth have both debuted in this week's viral chart.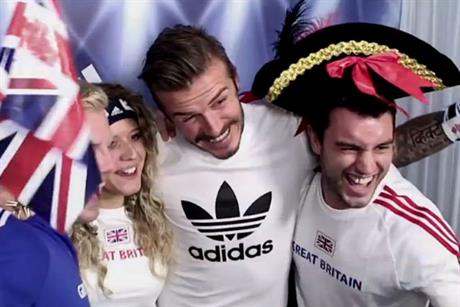 Top of the chart for a third week is the DC Shoes "gymkhana 5" ad, featuring stunt driver Ken Block, which earned a further 139,779 shares this week, to take its total to 1.8 million.
A viral video for adidas, in which fans were treated to a surprise appearance by David Beckham when they visited the brand's photo booth as part of its "take the stage" Olympic activation, was placed fourth with 23,933 shares this week. The film was produced by the 10 Group with H+K Strategies and directed by John Pereira.
The Olympic flavour to the chart is extended by the fifth-place debut of Channel 4's rousing Paralympics TV spot "meet the superhumans", which was created by the broadcaster's in-house team 4Creative.
The web has also taken note of Tourism Ireland's nod to the Olympics. The Publicis London viral contrasting the stressful experience of negotiating London, with a relaxing trip to the Emerald Isle, was shared 2,422 times this week.
The chart, produced in conjunction with Unruly, ranks ads according to the number of times they have been shared on Facebook and the blogosphere.
Ads launched more than 30 days ago are not included.
1. DC Shoes 'Ken Block's gymkhana five' created in-house
139,779 shares this week
All time: 1,801,350 shares
2. Sesame Street 'share it maybe' by Sesame Street Workshop
61,708 shares this week
All time: 657,146 shares
3. Mitt Romney 'what happened?' Romney for President, inc.
58,473 shares this week
All time: 76,390 shares
4. Adidas 'David Beckham at the #takethestage photobooth' by The 10 Group
23,993 shares this week
All time: 27,955 shares
5. Channel 4 'meet the superhumans' by 4Creative
14,121 shares this week
All time: 38,694 shares
6. Barack Obama 'firms' by Obama For America
12,146 shares this week
All time: 141,487 shares
7. Temptations 'Boots' by DDB Chicago
10,343 shares this week
All time: 25,851 shares
8. Obama Biden 'Beyoncé's letter to first lady Michelle Obama' by Obama For America
7,433 shares this week
All time: 60,859 shares
9. Fiat 'immigrants' by The Richards Group
5,619 shares this week
All time: 12,120 shares
10. Tourism Ireland 'escape the madness' by Publicis London
2,422 shares this week
All time: 7,101 shares
Follow @brproducers
This article was first published on campaignlive.co.uk
blog comments powered by

Disqus
---
Additional Information
30 Seconds to Mars stratospheric rise on social media

In the week that it was shown that users only visited the planet Google+ for less than 7 minutes a month it's interesting to look at how a contemporary rock artist brand goes about using social media in their marketing and the different levels of interest on different platforms.