---
Richard Branson's legal challenge vindicated as Virgin Trains keeps franchise
By Loulla-Mae Eleftheriou-Smith, marketingmagazine.co.uk, Wednesday, 03 October 2012 08:44AM
The Government has cancelled its decision to award the West Coast Main Line franchise to First Group, vindicating Sir Richard Branson's decision to go to court in protest against Virgin Trains' loss of the contract.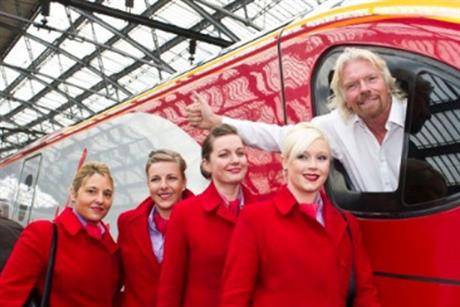 Transport secretary Patrick McLoughlin said the competition to run trains on the West Coast Main Line has been cancelled following the discovery of "deeply regrettable and completely unacceptable" mistakes made by the DfT in the way it managed the process.
He said: "A detailed examination by my officials into what happened has revealed these flaws and means it is no longer possible to award a new franchise on the basis of the competition that was held."
Branson welcomed the decision from the DfT to pause all franchise competitions, including Great Western, Essex Thameside and Thameslink, pending independent reviews of the process, on his blog.

He said: "Reluctantly we were forced to seek a judicial review. Tomorrow the DfT were meant to have given their evidence to the court.

"I am pleased to say that the DfT has looked at all of the facts and found significant flaws in the way its officials handled the process. They have basically acknowledged that what we had been saying is correct."
McLoughlin said he has ordered two independent reviews to look "urgently and thoroughly" into the matter to define "exactly what happened" and to ensure the Government's rail franchise programme is "fit for purpose".
The future of Virgin Trains had been uncertain after it was told to hand its only franchise over to First Group in December.
First outbid Virgin with a promise to pay the Government £5.5bn to run the franchise in August this year.
Branson subsequently started court proceedings over the Dft's decision to award the franchise to First Group. However, the Government confirmed that today's news also means it is no longer contesting the judicial review sought by Virgin Trains in the High Court.
This article was first published on marketingmagazine.co.uk
blog comments powered by

Disqus
---
Additional Information
Pinterest takes big step towards working with major brands

Pinterest is getting closer to big brands as it announces three new types of pin that will highlight major US retailers.

It marks Pinterest's first step towards associating images directly with brands and could be the beginning of a change on the social network that sees it become a marketplace as well as a site where people pin ideas of things they like or that inspire them.