---
Microsoft creates giant slide to promote 'fast and fun' Windows 8
By Sarah Shearman, marketingmagazine.co.uk, Monday, 05 November 2012 10:34AM
Microsoft has started UK marketing activity for its new Windows 8 operating system by installing a giant slide in the Bluewater shopping centre in Kent.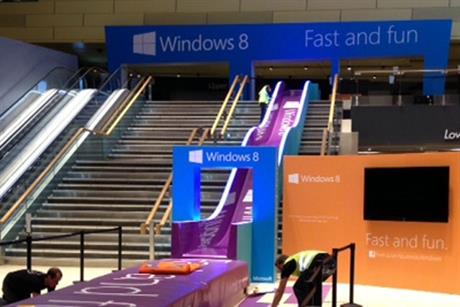 The IT and tech giant set up the slide over the weekend, giving shoppers an alternative to using the stairs and presenting Windows 8 as "fast and fun".
Every slider had their picture taken as they went down the slide, receiving a print photo of themselves afterwards. Their pictures were also shared on a giant LED screen, managed by digital outdoor media owner RAM Vision, in the shopping centre, as well as on Facebook and Twitter.
Participants who tweeted a picture of themselves with the #fastandfun hashtag were entered into a competition to win prizes, including an HP tablet.
The campaign was conceived by Microsoft's agency Jam, with Slice handling the experiential build.
The launch of Windows 8 is a major milestone for Microsoft, as it seeks to better compete with Apple and Google.
It is preparing a major global marketing assault, which will be Microsoft's biggest period of sustained marketing activity in its 37-year history.
Follow @shearmans
This article was first published on marketingmagazine.co.uk
blog comments powered by

Disqus
---
Additional Information
Forget the digital cluster bomb – be more like Bob

It's said that the average person is exposed to 30,000 marketing messages a day. To me that's worrying news for us marketers – especially if it's your job is to build marketing relationships with consumers.