---
Campaign Viral Chart: Bieber does viral double
By Ben Hall, campaignlive.co.uk, Friday, 30 November 2012 09:50AM
Teen sensation Justin Bieber features twice in the viral chart this week, returning to star in Macy's Christmas ad for a second year, and plugging his own fragrance.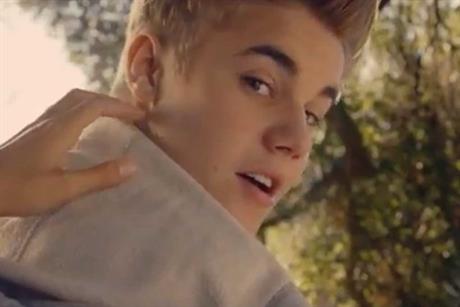 The ad for Bieber's fragrance, Girlfriend, follows weeks of teaser ads in which the viewer is put in the position of the young singer's girlfriend.

The ad, created by BBH LA, is the second most-shared ad this week and joins Bieber's appearance in this year's Macy's Christmas ad, which debuted in last week's chart.

Last week's most-shared video, "dumb ways to die", created by McCann Melbourne for Melbourne's Metro Trains, adds a further 577,530 shares and continues its run on top.

To view the most-shared viral ads from previous weeks, visit the Brand Republic viral video board on Pinterest.
The chart, produced in conjunction with Unruly, ranks ads according to the number of times they have been shared on Facebook, Twitter and the blogosphere.
Ads launched more than 30-days ago are not included.
1. Metro Trains Melbourne "dumb ways to die" by McCann Melbourne
577,530 shares this week
All time: 2,168,695 shares
2. Justin Bieber Girlfriend "official fragrance" by BBH, LA
137,467 shares this week
All time: 211,096 shares
3. Canadian Tourism "keep exploring" by DDB
73,905 shares this week
All time: 110,317 shares
4. Cartier "winter tale" created in-house
71,797 shares this week
All time: 89,702 shares
5. Red Bull "the athlete machine" created in-house
61,208 shares this week
All time: 900,253 shares
6. Crowdrise "self-taught African teen wows MIT" by Radical Media
57,128 shares this week
All time: 195,330 shares
7. NBA "Big: Color" by Goodby, Silverstein & Partners
55,854 shares this week
All time: 111,061 shares
8. Canon "inspired" by Grey, NY
35,110 shares this week
All time: 44,071 shares
9. Macy's "what's in store?" by JWT New York
35,026 shares this week
All time: 300,574 shares
10. John Lewis "the journey" by Adam & Eve/DDB
8,238 shares this week
All time: 264,314 shares
Follow @brproducers
This article was first published on campaignlive.co.uk
blog comments powered by

Disqus
---
Additional Information
Highest rated
Agency: VCCP

Rating: 5.0

Rating: 5.0
The console is dead: The Socialisation of Gaming

The games console as we know it is dead. When Microsoft unveiled the Xbox One earlier this week, it was clear that this was more than a device that would enable you to play Call of Duty or FIFA – this was, in Microsoft's own words, "an all-in-one home entertainment system".