---
Media Agency of the Year: Goodstuff Communications
campaignlive.co.uk, Thursday, 13 December 2012 08:00AM
Award-winning campaigns for Virgin Media and Ann Summers, plus two new joint ventures, show the agency isn't afraid to take risks to succeed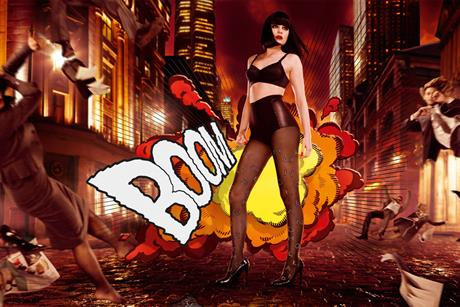 Judging Media Agency of the Year proved harder this time round than in recent years, as more shops have a good case to make about creativity, rather than simply new-business growth and planning and buying prowess.

There was a noticeable step up in innovation and strong strategic thinking, which, when it all came together in the blender, meant Campaign took a while to thrash out which agencies impressed the most this year.
Against that backdrop, it was Goodstuff Communications that was the overwhelming winner. The agency won two categories at the Campaign Media Awards and three at the Thinkbox TV Planning Awards for its work with Virgin Media and Ann Summers. Its Dr Martens campaign also landed a silver at the Campaign Big Awards.
This would be impressive by any standard but, for Goodstuff, it is remarkable. It had only repositioned itself as a full-service media agency in September 2011 after seven years as a pure-play communications planning shop, yet went on to scoop awards for integrated media campaigns.
The agency has a dynamism that emanates from the passionate management team led by the founding partners Ben Hayes and Andrew Stephens, a strategist and suit who grew up together at Saatchi & Saatchi and Manning Gottlieb OMD before making a go of it themselves. The investment in new talent in 2011 also gave the agency fresh momentum this year. It hired the planning hotshot Simeon Adams, formerly a strategy director at Bartle Bogle Hegarty, and Mindshare's operations director, Bobby Din, which complemented the strategy-heavy management team that also features the planning partners Simon Wilden and Paul Gayfer.
Goodstuff's management has shown that it is not afraid to take risks. It has co-launched two joint ventures: Fifty6, a specialised unit in which Goodstuff provides strategy and creativity for Virgin Media alongside its buying shop Manning Gottlieb OMD, and BMB Media, a joint venture with the creative agency Beattie McGuinness Bungay, which has clients including Pretty Polly.
The result was that Goodstuff grew its business rapidly, winning eight new clients including Republic, AllSaints and Secret Escapes.
But it was Goodstuff's strong heritage in comms planning, coupled with an ambition for thinking up big ideas, that made its work stand out. Its "introducing buffertising" campaign for Virgin Media through Fifty6 took Yeo Valley, Citroen and Magners ads and interrupted them on purpose to highlight that consumers wouldn't put up with buffering on TV, so they shouldn't put up with it online – promoting Virgin's broadband offering in the process. At the Thinkbox TV Planning Awards, where the campaign won a gong, the judges agreed the planning was robust and impressive, and demonstrated complete understanding of platform crossover.
Goodstuff also created an award-winning campaign for Ann Summers this year. The shop wove a TV ad event into the season finale of The Only Way Is Essex, with competition-winners also starring in the film.
The agency has managed to play the investment game to its strengths by maintaining its independence despite Omnicom increasing its minority stake over time. Thus it has the best of both worlds: it has access to Omnicom's back-end services and systems, but can trade independently with media owners.
For a diminutive agency, Goodstuff made as many headlines for all the right reasons as the best of the large media networks, proving that ambition is mightier than size.
PHD
If you are going to be beaten to the top spot, a mild sweetener would be that the competitor comes from the same tribe. PHD, which came second, can take solace in the fact that its parent Omnicom also has a stake in Goodstuff, which has a not-so-dissimilar make-up to that of PHD in its early days.
PHD, which had won in the past two years, was praised for its consistent compulsion to deliver creative and innovative solutions for clients, its planning product and its resilience as a business. The agency retained its key relationship with Cadbury as part of an intensive European Kraft review, and it picked up the consolidated £7 million business for Experian from Maxus and Harvest.
The shop's ability to carve campaigns around great content was displayed in its multi-award-winning work for the British Heart Foundation, which exploited a female heart attack plotline in Coronation Street. Other highlights included campaigns for two London 2012 sponsors, Cadbury and Sainsbury's. For Sainsbury's sponsorship of the Paralympic Games on Channel 4, PHD and Drum created a series of films that introduced viewers to ten Team GB Paralympians and their stories. PHD extended this activity to innovative digital content featuring Sainsbury's ambassador, David Beckham.
Creativity and innovation aside, PHD had a 99 per cent client retention rate and promoted 41 people in 2012 – evidence that Daren Rubins and his management team, including the respected planner David Wilding and the managing director, Frances Ralston-Good, are leading a happy ship all round.
Carat
Aegis' Carat has been taken on a rollercoaster journey in the past two years, steered by Tracy De Groose, and this started to reap dividends in 2012 after a roll of new business entered the door at the back end of last year. The shop delivered an award-winning campaign within months of securing the £28 million Gocompare.com account in December 2011. It also created innovative work for Gordon's, which won Best Alcoholic Drinks Campaign at the Campaign Media Awards, and delivered ambitious work for the Olympics sponsor Adidas. It has invested in new hires, most notably Matthew Hook, who became its chief strategy officer. The quality, creative and intelligent media thinking coming out of Carat is snowballing and the agency will be a force to be reckoned with if it takes this to an even higher level next year.
Manning Gottlieb OMD
Omnicom is further represented this year by Manning Gottlieb OMD, which delivered a great planning product for clients such as Virgin and Waitrose. The spotlight-shy managing director, Robert Ffitch, and its planning brain, Jonathan Fowles, must have been proud with the industry recognition for its work this year. The shop was credited alongside Adam & Eve for its work on John Lewis, which won the Grand Prix at the IPA Effectiveness Awards. It also won the Media Grand Prix at Cannes for its insight and execution of the Google voice search campaign by Bartle Bogle Hegarty. And let's not forget it also poached the £47 million Specsavers business off MEC, which balanced out the loss of its £10 million Sony Music Entertainment business. All this shows Manning Gottlieb OMD is a robust – if sometimes less visible – cog in Omnicom's media machine.
Recent winners: PHD (2011); PHD (2010); MEC (2009); MediaCom (2008); MEC (2007)
This article was first published on campaignlive.co.uk
blog comments powered by

Disqus
---
Additional Information
Highest rated
Agency: VCCP

Rating: 5.0

Rating: 5.0
The console is dead: The Socialisation of Gaming

The games console as we know it is dead. When Microsoft unveiled the Xbox One earlier this week, it was clear that this was more than a device that would enable you to play Call of Duty or FIFA – this was, in Microsoft's own words, "an all-in-one home entertainment system".