---
Hit or miss? The Observer apologises for article about transgender people
By Daniel Farey-Jones, prweek.com, Wednesday, 16 January 2013 09:57AM
The Observer found itself on the end of a backlash after printing a column by Julie Burchill calling members of the transgender community 'a bunch of bed-wetters in bad wigs' and 'dicks in chicks' clothing'.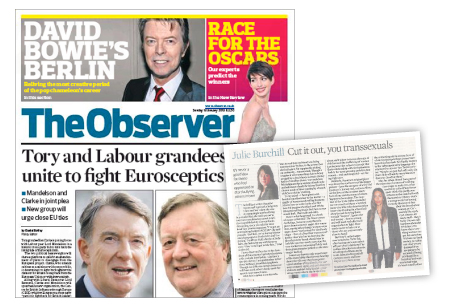 The next afternoon, the paper's editor, John Mulholland, apologised for 'the hurt and offence' caused and withdrew the piece from The Observer's website. The column was subsequently republished on The Daily Telegraph's website.
HOW I SEE IT
Dylan Sharpe, consultant, Pagefield
I advise clients not to overreact to a Twitterstorm. It might feel as if the roof is caving in, but the backlash will usually last between 24 and 48 hours, at which point – provided no-one has poured fuel on the flames – it will drift off into the online ether.
However, by apologising and, more seriously, withdrawing Julie Burchill's contentious article, John Mulholland emptied a few jerry cans of premium diesel on to this particular blaze.
The article had been read by countless people when it was withdrawn. A debate over political correctness is now a row about journalistic freedom and the courage of the press.
Over the past week, Guardian Media Group has invested heavily in an ad campaign telling us its papers 'own' the weekend. With Burchill's article now on the Telegraph website, GMG has been comprehensively 'owned'.
MISS
This article was first published on prweek.com
blog comments powered by

Disqus
---
Additional Information
Highest rated
Agency: VCCP

Rating: 5.0

Rating: 5.0
Forget the digital cluster bomb – be more like Bob

It's said that the average person is exposed to 30,000 marketing messages a day. To me that's worrying news for us marketers – especially if it's your job is to build marketing relationships with consumers.