---
Oreo scores big win on Super Bowl night with Twitter power-out ad
By Gordon MacMillan, marketingmagazine.co.uk, Monday, 04 February 2013 08:57AM
The biggest moment on Twitter during last night's Super Bowl was not during play itself, but when the lights went out at the New Orleans Superdome for 35 minutes and cookie brand Oreo scored the biggest ad win of the night.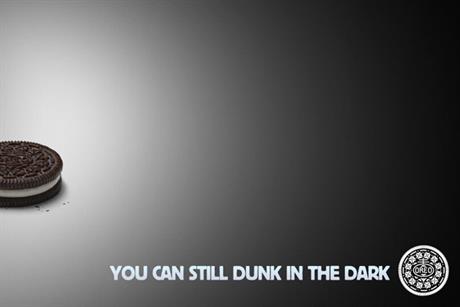 The power went early in the third quarter, with the Baltimore Ravens leading the San Francisco 49ers 28-6.
As soon as the power went down, Oreo and its agency went to work on an ad that was quickly Tweeted. Within an hour, the Oreo ad, with the caption, "Power out? No problem", had been shared more than 10,000 times on Twitter and went on to be retweeted and favourited more than 18,000 times.
That means one of the most talked-about ads on the Super Bowl night, when TV spots were being sold by CBS for between $3.8m (£2.4m) and $4m (£2.5m), was done for free on Twitter.

It was the perfect case of being ready at the right time and taking advantage of a golden opportunity.

Oreo wasn't the only advertiser to try it. Several others did as well, including Audi, with more than 9,000 retweets and 2,800 favourites, Tide, with around 1,500 retweets and favourites, and Calvin Klein, which picked up a couple of hundred.

It was only freely posted ads. Twitter said that marketers started bidding on "power outage" as a search term just minutes after the lights went out.

Oreo however won big, as it was when the lights were out that Twitter really lit up with 231,500 – that's almost 50,000 more than when the clock expired after play had resumed, with just over 13 minutes left in the third quarter, and the game was won by the Ravens 34-31.

So how did Oreo manage to get an ad out so fast? The answer is that it was down to its agency Dentsu-owned 360i.

The agency said that the ad was "designed, captioned and approved within minutes," according to Sarah Hofstetter, president of 360i.

She said all the decisions were made in real time, as the marketers and agency members were sitting together at a "mission control" centre watching the game unfold.

"We had a mission control set up at our office with the brand and 360i, and when the blackout happened, the team looked at it as an opportunity. Because the brand team was there, it was easy to get approvals and get it up in minutes," Hofstetter told BuzzFeed.

Laurie Guzzinati, a spokeswoman for Mondelez, which owns Oreo, said: "They saw a real-time opportunity with the power outage and jumped it, doing so in a social voice true to the Oreo brand."

The agency was able to get the ad approved so quickly because members of the Oreo marketing team were on hand to sign it off.

Hofstetter said: "You need a brave brand to approve content that quickly. When all of the stakeholders come together so quickly, you've got magic."
Follow @gordonmacmillan
This article was first published on marketingmagazine.co.uk
blog comments powered by

Disqus
---
Additional Information
Highest rated
Agency: VCCP

Rating: 5.0

Rating: 5.0
Forget the digital cluster bomb – be more like Bob

It's said that the average person is exposed to 30,000 marketing messages a day. To me that's worrying news for us marketers – especially if it's your job is to build marketing relationships with consumers.