---
Keira Knightley 'sexually suggestive' Chanel ad banned
By Maisie McCabe, campaignlive.co.uk, Wednesday, 13 February 2013 10:16AM
A Chanel TV ad starring Keira Knightley has been banned from kids' TV for being too sexual and unsuitable for young children.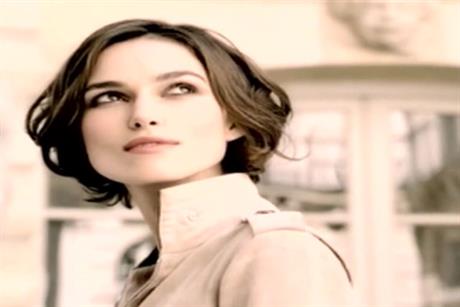 The Advertising Standards Authority (ASA) received a complaint about a TV ad for the perfume Coco Mademoiselle, which was shown before the 20th Century Fox film 'Ice Age 2'.

The ad, which was made by Chanel's in-house team, showed the actress being photographed on a bed. The photographer then unzipped her clothes before she undressed herself, exposing her back.

Wrapped in a bed sheet, she crawled towards the photographer and then leant back, after which he leaned in to kiss her. She then put a finger to her lips and said: "Lock the door".

Although the ASA acknowledged that the undressing in the ad took place in the context of a photo shoot, it ruled that the scenes involved "sexually suggestive" content.
As the photographer was directly involved in unzipping the actress's garments and it was suggested she was naked aside from a bed sheet, the ASA found there was "clear sexual tension" between the pair.
The ASA ruled the ad was suitable for older children but that the sexually suggestive material was unsuitable for young children, and so the ad was "inappropriately scheduled" alongside a film with particular appeal to children.
The watchdog ruled that the ad should have an "ex-kids" restriction in future and not be broadcast in its current form in or around programmes with a particular appeal to children.

Follow @MaisieMcCabe
This article was first published on campaignlive.co.uk
blog comments powered by

Disqus
---
Additional Information
Highest rated
Agency: VCCP

Rating: 5.0

Rating: 5.0
Hey, businesses: ditch YouTube and Head over to Vine

Video marketing for businesses can be a tough game to play. The video landscape is full of funny pranks and comedy acts, so finding an area to put your real content where it will be viewed is difficult. Many businesses are attracted to YouTube, as they boast six billion hours of video viewed. So, they figure, hey why can't I get some of those hours. The problem is: YouTube's viewed content is dominated by shows and comedy.