---
Advertising's hop shops
campaignlive.co.uk, Thursday, 03 July 2014 08:00AM
Adlanders have been selling beer (on behalf of brands, of course) with some distinction for decades now. But are they able to brew it too? We asked the beer journalist Pete Brown to find out.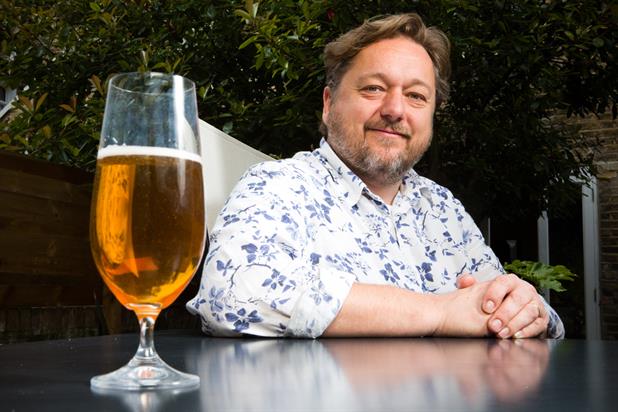 Style and substance. Both are vital when selling alcohol. The more discretionary a purchase, the more it says about us. For decades now, the label on the bottle has been as important as what's inside. Some would say more important, but they're wrong. As craft beer goes from niche to mainstream, we're becoming more interested in – and discerning about – flavour. I left advertising to write about beer. Now, it seems advertising is eyeing the same career choice. So can agencies and the people who work for them deliver where it counts?


Camden Hells 9/10
Lager, 4.6% ABV
Agency: Part-owned by Sir John Hegarty
Off to a cracking start with one of my favourite beers, from a brewery that happens to be run by Sir John Hegarty's son-in-law.

Lager gets a bum rap from people who think they know beer but don't, and this is a classic. Pours white gold with a faint haze. A huge bready hit on the nose with hints of spice and grassy notes – tasted blind,

I would have mistaken it for a Czech pilsner, and lager doesn't get much better than that. On the palate, there's a lemony fruitiness and more bread, which give way quickly to a gentle bitter buzz.
This is a refreshing, friendly beer; the kind of beer that comes round to your house when you don't feel like going out and persuades you to put your coat on.
Seymour Brew 6/10
Golden pale ale, 4.2% ABV
Agency: Manning Gottlieb OMD
Bold claims are the stock-in-trade of agencies. But how often do they ring true? "You can't bottle character, they say," the back label reads. "Nonsense, we replied, so then we went and did it."

Really?

The beer pours a crystal-clear, honeyed gold. There's not much going on aroma-wise apart from a faint honeyish hint. On the palate, it's smooth and soft, revealing a hint of lemon, a touch of vanilla and a very faint bitterness. It's nice and fresh but, for a golden ale to have less going on than a lager, it's a poor show. Perhaps what "they" meant was not that one can't bottle character but rather you, Manning Gottlieb OMD, can't. You haven't here, at any rate.
VCCP Brew 8/10
Pale ale, 4.7% ABV
Agency: VCCP
The package is as bold and arrogant as an ad agency reception on pitch day in the mid-80s. "VCCP. Brew. 4.7%." That's all you need to know, mortals. Bow down. Style? Flavour notes? That's for us to know and you to find out.

Turns out this is a good example of the craft beer style currently known as "London murky" – a hop-forward, cloudy pale ale that bears a passing resemblance to fresh grapefruit juice in both appearance and flavour. I'm guessing 100 per cent Citra hops, the style ubiquitous among the craft beer hipsters of Hackney's Hoppy Valley.

It's actually a pretty good standard-bearer for a style that's starting to become tiresome: a nice citrus character, smooth and creamy mouthfeel with a gentle prickle, this is beer pretending to be lemon meringue. In a good way.
Aurelio 3/10
Ahem – 'golden artisan beer', 4.8% ABV
Agency: Founded by Karmarama employees
I don't want to be too unkind to a beer that gives all its profits to prostate cancer but, from the cardboard presentation tube to the shafts of gold on the label to the bold claims to being "The Greatest Idea Since Beer", in the presentation stakes we're looking at the kind of beer Liberace would have designed.
Can the contents possibly live up to the bling? Sadly, not on this showing. I can detect a pleasant honeyish sweetness, but this is blotted out by the papery aroma of oxidisation, hints of plastic and acetone and a lasting burnt finish. The beer has been contract-brewed by a brewer I like and respect, so I know it's not meant to taste like this. A dodgy bottle. Shame.
Five Per Cent 6/10
Pale ale, 5% ABV
Agency: Origin Creative
In contrast to the shining glory of Aurelio, here's the Ronseal approach. Five Per Cent. It's a pale ale. And it's five per cent alcohol. There's a lovely story on the website about how Origin Creative came up with the idea, and it went to a great brewery to make that idea a reality.
Things start very well indeed: aromas of orange marmalade and spice lead to a juicy Seville orange character that spreads out and makes friends with your palate like a new-business director at a drinks reception. But then it's let down by a slightly acrid finish that builds unpleasantly after a few sips. Again, probably a fault in the bottle that lets down a very promising beer.

Hot Rum Cow

8/10

Rye IPA, 6.7% ABV
Agency: White Light Media
It's nice to see someone going for a darker, more assertive style than the ubiquitous pale ale, and I would expect the excellent Hot Rum Cow magazine to step up to the challenge.

Pours a honeyish, toffee colour and throws a tropical fruit party under your nose, with flavours of old sweet shop jars – fruit salad, sherbet, lemon drops – all dancing the samba and having a thoroughly good time. On the palate, runny, gloopy caramel flavours from the rye malt come in to balance the fruit and calm things down. It's not for everyone but, if it leaves you cold on its own, it might redeem itself as a match with food – it would be amazing with spicy dishes. Be warned, though – it drinks way, way lower than 6.7% ABV.

This article was first published on campaignlive.co.uk
comments powered by

Disqus
---