---
APG Creative Strategy Awards - Comparethemarket.com 'meerkat campaign' by VCCP
campaignlive.co.uk, Tuesday, 01 September 2009 01:30PM
LONDON - How a cartoon meerkat transformed the fortunes of struggling price comparison site Comparethemarket.com.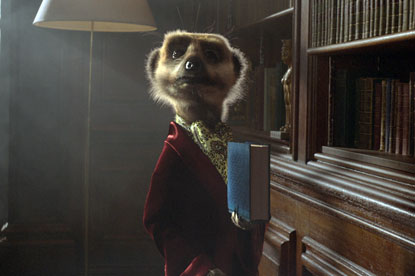 The 'some brands you can't do great work for' myth

If you can do it for comparethemarket.com you can do it for anybody.

We're talking car insurance aggregator sites here. Not widely perceived to be the greatest creative opportunity. Car insurance has always been a notoriously uninteresting subject - a necessary inconvenience required by law.

Comparethemarket.com was a small player in this category where market share is King. The bigger you are the more likely you are to survive.

In a category where market share is determined by spend. We were fourth in a category of four.

What's more we had little that would help us punch above our weight.

1. In a market where name familiarity is key we had a long (and according to research) unmemorable name
2. Our identity and name were very similar to our nearest (bigger spending) competitor gocompare
3. We had no single feature on which we could build a point of difference
4. We had also been one of the last to market

We are now grateful for this adversity (although hindsight is a wonderful thing). If it hadn't been for everything being quite so difficult we almost certainly would have carried on fighting in the same territory as the competition. It was because of this poor hand of cards we had to find a different answer. The answer, and if you have seen the ads you will understand, turned out to be love.


They are all amazing products

When you think about it a comparison site is really quite something. Put your details in once and search 400 prices in twenty seconds. It used to take all morning to phone round three.

That is why all the brands were trying to say the same thing. The thinking was that the generic benefit is so amazing that if you could own it you would win. A good summary of the battle is 'spend more than the competition on communicating the generic benefit'.

Not surprisingly the ads were perceived to all be the same - computer screens, cars with stars and price saving claims.

In a period of land grab the advertising ran at incredibly high weights - four major players shared around 1,500 TV spots a day.

As a result, despite what this new category did for people nobody seemed to like it much. The consumer response was consistent. 'I can't stand any of it' was the general gist.

Luckily the generic message approach wasn't an option for us because we weren't prepared to spend to make ourselves heard.


We are all the same

Nor did we have anything different to say that would help us form a new differentiating story. The truth is that to all intents and purposes all the sites are the same.

'You could save up to £300', 'We compare more insurers than anybody else', the price you see is the price you pay' 'almost everybody in the country could save'.

Everybody's facts and benefits were the same. By increasingly focussing on 'differentiating' claims in advertising all the sites increasingly blended into one.

So the first thing was to recognise that we couldn't differentiate rationally. People were sick of the rational stuff and weren't really listening. How do they know if one claim is better than another?

In any case because of the high spends people by now felt as if they knew enough. They knew what the sites did and that there was a saving to be made. Money saving, number of insurers etc. - all that was yesterday's news.

Our only option was to do something different. In a context where the competition are perceived to be irritating and disliked if we could entertain and get people to like us then we might just be able to stand out.

In order to help convince you that this is a break through - at the time of writing this paper all our competitors are still battling it out on the same generic claims.


A search led strategy

If comparison sites want to keep costs down they have to get people to type in their brand name. Google charge less if people search by brand name, they charge more if they search for something generic (ie car insurance).

With a relatively low spend, creating affection for the name was crucial. Not that easy with a name like ours.

Research showed us that getting people to remember compare was relatively easily done. In research Compare.com (which doesn't exist) was as well remembered as Comparethemarket.com. People would describe gocompare's ads and site and attribute them to Comparethemarket.com (and visa versa). Owning comparison or being associated with comparison wasn't going to be enough and would consign us to being a small player.

The only thing that distinguished us from the competition was 'market'. We felt that it was by drawing attention to this that we might be able to create space between us and the competition.


Some work that didn't work

Creatively, comparing and market takes you to market traders i.e. in a street market comparison is a good thing. The parallels are obvious.

What is good about this approach is that it plays on market but it doesn't provide the interest warmth and affection that would help us out shine the competition. We felt creatively we could do more.

In any case the answer lay elsewhere in the brief.

Back to the future

Actually the brief was more of a look backwards than a leap. Historically, many great insurance brands had been built on affection and salience embodied in an icon. Admiral, Churchill, Hastings all developed warm iconic personalities with which to become famous.

Its just that the comparison site category had been too keen on its revolutionary product and moved away from what have been highly successful (but very unfashionable) conventions.

The leap forward came in not only asking for a character but also being clear what type of character we didn't want. Sheila's Wheels and Michael Winner had built great amounts of salience without building affection and respect. We didn't want saliency at any cost. We were a serious player and had to be seen to be worthy of respect.

The brief was to borrow from outside of our category. Cadbury's gorilla came up again and again in groups - even for car insurance. Its audacity and fun had stepped outside the rules of its category and provided much of the inspiration of our brief. Although the idea of a drumming gorilla was ludicrous, people respected the brave approach and pure creativity. So although it was fun it was also worthy of respect.

We asked the creatives to fuse the fun of gorilla into our functional product (fun-ctional was mentioned in the briefing). This approach would allow us to reward the consumer emotionally but also allow us to communicate product messages where and when necessary.


The all important footnote

Importantly the brief also contained one small footnote . So small and ambitious that it seems a little wrong to put it forward as having been the kernel of what ended up being such a great creative idea.

The footnote asked the creatives if they could find a way of side stepping the high cost per click on the word market (which is over £5).
We asked the creatives if they might be able to find a way of introducing a cheaper term or phrase into the advertising that could exist alongside 'market'.


Meerkats

We weren't sure that we had cracked it with Comparethemeerkat.com. At first they were based in Yorkshire and next door to the offices of Comparethemarket.com.

It ticked many of the boxes but research found that the play on words didn't drive the required affection and in many cases was met with groans. We weren't sure that it was so bad that it was good.

On the other hand, the comparemeerkat.com website (where you can compare thousands of meerkats) seemed to capture the imagination in research. In exploring this idea we also found that cost per click on meerkats was in the region of 5p (market was £5)

So we rebriefed the idea to the creatives asking them to create layers of character, warmth and affection. Aleksandr Orlov was born. A loveable but complex character who is desperately frustrated by the confusion between Comparethemarket.com and Comparethemeerkat.com.

As a result the love people have for Aleksandr has had an outstanding impact on the fortunes of the brand.

Aleksandr in social media

After the creation of Aleksandr, planning on 'Meerkats' moved into another phase. Our aim has been to place social media at the very heart of the campaign

We wanted to create and facilitate hundreds of conversations about Aleksandr Orlov, comparethemeerkat.com and comparethemarket.com. We also wanted Social Media to be the "glue" that integrated and linked together the ATL and Digital aspects of the campaign. With that in mind, it was critical that the Social Media components were absolutely integral through out the campaign and not a media bolt-on. We concentrated primarily on Facebook and Twitter.

Facebook was designed to be the place for Aleksandr's community to engage, create and connect together. We are using the space almost as we would a blog - uploading content, pictures, videos and notes on a weekly basis. We use Facebook to encourage consumer uploads of meerkat suggestions (which are being fed into version two of the website), meerkat photos and ideas for new marketing launches (toys, ringtones etc).

Aleksandr is the first UK advertising character to have his own Twitter account. He is an active and engaged participant in the Twittersphere, sharing links, photos (like the user generated content one of Aleks and Stephen Fry stuck in a lift together!) and his daily thoughts.

He is also committed to answering specific questions that his fans tweet him. We have also used Twitter to find real people to appear as part of his new Testimonials page on his website. Aleksandr now has 456,000 friends on Facebook and 16,000 followers on Twitter.


A few results
The campaign achieved all of its twelve month objectives in 9 weeks
It is now number 1 in spontaneous awareness and consideration
Its cost per visit has been reduced by 73%
Quote volumes have increased by over 83%
Read about the planning of other major worldwide campaigns at Campaign's APG Creative Awards 2009 page
This article was first published on campaignlive.co.uk
comments powered by

Disqus
---