---
Mark Ritson on Branding: Andy Murray lacks David Beckham's brand appeal
marketingmagazine.co.uk, Monday, 29 June 2009 08:30AM
The Scots tennis player is winning fans on the court, but his credentials as a brand are less obvious.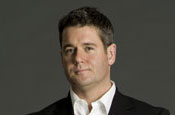 This weekend, if the papers are to be believed, we might see the first British men's finalist at Wimbledon for more than 70 years. I am not convinced that Andy Murray will make it to an apparently inevitable final against Federer on Sunday, but, irrespective of his performance on the courts this week, the bigger marketing question relates to the potential appeal of 'Brand Murray'.

The concept has reached a peak in recent months, fuelled by both the player's short odds to win Wimbledon and his decision earlier this year to join 19 Entertainment, David Beckham's agency, which is widely portrayed as the epitome of brand-building expertise in relation to celebrities and sports stars.

A source close to the agency, quoted last week, confirmed that work on Brand Murray had begun: 'The ambition is global. The potential is enormous.'

Yes, and the bullshit is plentiful. Despite predictions that Brand Murray will soon be worth £100m a year, the harsh reality is that Murray is a fine tennis player, but a hopeless prospect as the next Beckham, no matter how advanced the brand strategy applied to his future career.

Let's start with a fundamental commercial limitation for Brand Murray - he is not exactly a looker. For all the talk of Brand Beckham, the fact remains that David was beautiful long before the agents and brand gurus came calling. Former Wimbledon champion and cultural diplomat Pat Cash got himself into a bit of trouble last week when he pointed out that Murray was not in the same league. According to Cash, Murray is 'never going to be eye-candy' and has 'the most boring, monotone voice in the history of the planet'. Cash went on to extol Murray's ability on court, but his comments highlight the importance of aesthetic appeal when you are up against the likes of Nadal and Ivanovic.

Another potential obstacle for Brand Murray is his personality. In a series of public gaffes, he has managed to alienate far more than he has attracted. There was the unfortunate criticism of himself and his opponent in 2006 that 'we both played like women'. Last year's flexing of muscles on court after each victory did not go down too well either. Last week, Murray continued the trend with extended criticism of the new Wimbledon Centre Court roof. There is none of the mystery of Borg or the positivity of Agassi. Just a miserable, slightly annoying petulance.

The biggest problem, though, is his nationality. Murray is a proud Scot. He made that clear in 2006, when he jokingly refused to support England in the football World Cup, for which Scotland had failed to qualify, and claimed his sympathies lay with any team that faced England in the competition.

FutureBrand marketing director Tim Hill might think that linking Murray with a 'quintessentially English' brand like Fred Perry is 'very clever'; I think it is stupid. How can Fred Perry hope to boost its brand from a tie with a player who, to his credit, has never made any secret of his love for Scotland, or his sporting enmity for England?

The endorsements that will get their ROI from Murray are those that better match the player's dour personality and national associations. It's no surprise that brands like Royal Bank of Scotland and Highland Spring currently occupy valuable positions on his shirt.

David Beckham was a once-in-a-lifetime occurrence, and let's remember that he has never won a thing for his country. Not every sports star wants to be, or can be, a megabrand. Becoming a great tennis player would be enough for most people, and, I suspect, for Andy - not Brand - Murray.

Mark Ritson is an associate professor of marketing and consultant to some of the world's biggest brands
30 seconds on Fred Perry
Fred Perry was born in Stockport, Cheshire, on 18 May 1909. Despite his northern, working-class background, he went on to win three Wimbledon titles in the 30s and is still one of only six men to win all four Grand Slam tournaments.
Perry was first a table-tennis player, becoming world champion in 1929, and took up tennis at 18. He was world number one for five years, the first three as an amateur.
He was almost as famous for his looks and urbane personality as his tennis. He was rumoured to have had an affair with Marlene Dietrich.
After retiring as a player in 1939, Perry invented the sweatband, then launched his polo shirts in 1952.
The laurel logo, which appears on the left breast of each shirt, was inspired by the old Wimbledon logo. Fred, a smoker, initially considered a pipe as his emblem.
His father Samuel was a cotton worker who became the first general secretary of the Co-operative Party and had two brief stints as MP for Kettering in the 20s.
This article was first published on marketingmagazine.co.uk
comments powered by

Disqus
---