---
Brand Health Check: Warburtons
By Joe Thomas, marketingmagazine.co.uk, Tuesday, 11 August 2009 08:30AM
LONDON - A £22m marketing push has failed to stop the bread brand losing market share.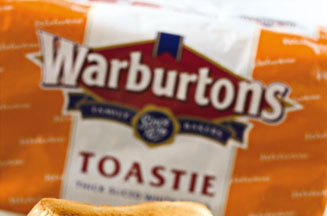 Last month, Warburtons, the UK's bestselling bread brand, parted company with Bartle Bogle Hegarty, its advertising agency for the past 12 years.
The timing of the split suggests things had gone awry with a recent relaunch of the brand, although both parties say it was an amicable separation.
Last October, Warburtons rolled out a £22m marketing push. Half of this budget was spent on a TV and press ad campaign designed to position the brand as 'Britain's favourite baker'. The intention was also to steal some thunder from its arch-rival, Premier Foods brand Hovis, following the success of the latter's 'Go on lad' TV spot.
Creatively, the two campaigns were very different. The critically acclaimed Hovis ad, by MCBD, showed a boy on a bread-buying errand, passing through events in the brand's 122-year history.
Warburtons' ad dropped its associa­tion with members of the founding family. It featured a Japanese business­man arriving in the UK and repeatedly encountering the Warburtons name.
Warburtons' sales may have risen, but its market share fell by 0.2% in the first half of this year. At the same time, Hovis grew its share 2.9%, to 25.7%.
Warburtons remains the market leader, but how can the bread brand avoid going stale?
We asked Will Awdry, acting man-aging director of Ogilvy Advertising, which handles Kraft and Unilever brands, and Mhairi McEwan, joint managing director of Brand Learning, who has previously held senior market­ing roles at PepsiCo and Unilever.


Will Awdry managing director, Ogilvy Advertising
The story of Warburtons has integrity. It's a family business, founded in 1870, and that counts for a lot in uncertain times like these.
However, the brand has lost its way - the family values have become like a caricature. Some of the ads have been very clever, but at the expense of real depth, and the narrative has lost focus.
At a time when authenticity is highly valued, the brand has lost the ability to keep it real. It's hard to picture Jonathan Warburton as a floury-aproned baker when he lurks around the upper regions of The Sunday Times 'Rich List'.
I think the way back in is via children and students. We want people to come to the brand and stay. Warburtons bread makes great toast, and teenagers and students live on this. Why not create a narrative around these groups? Concentrate on those who eat the
bread, not just the makers and bakers.
Whereas Hovis (successfully, it must be said) is mining a rich seam of cosy nostalgia, the Warburtons brand could - and should - stand for real family values.
The gap to exploit lies between 'what grandad ate' and 'what my grandson will eat'. In this way Warburtons can become a future-facing building block of British family life, without getting mired in rose-tinted nostalgia.

Remedy
Move the primary story from the makers to the audience.
Demonstrate an ability to listen - a family brand should be able to chat, not lecture.
Keep saying one thing well. The brand story has been too fragmented of late.
The shopper experience in relation to wrapped bread is hopelessly divorced from brand values - a decent pack design could solve this.
Mhairi McEwan joint managing director, Brand Learning

Being so strong in a very aggressive category is no mean feat, considering the competition from Hovis and Kingsmill. There's also the growing demand for speciality breads as well
as in-store bakeries and own-label to contend with.
Consumer tastes are becoming much more sophisticated and Warburtons must not allow itself to be left behind. To remain in pole position it should concern itself less with Hovis and more with what its own brand stands for.
How can it innovate to differentiate itself and add value for its consumers, while enhancing core benefits of taste, health and freshness and maintaining its competitive pricing?
Hovis is looking to close the gap by building on its heritage. Although Warburtons is actually 11 years older, competing on nostalgia would not be the best route for it.
Warburtons stands for community, family and ubiquity. It should work on broadening its appeal further while updating its image to engage with consumers' lives today.

Remedy
The basics are vital in a recession. It should be about great taste, reliable freshness and excellent value, but the brand and category could use some more excitement.
Innovation is a must. Offer different taste sensations, varieties, packaging options or range extensions to inspire and attract consumers.
The traditional Hovis image isn't one for younger consumers. Engage the iPod generation.
Support Warburtons' positioning as a core staple in the family diet - it is tastier, healthier and more wholesome than most snack foods.
This article was first published on marketingmagazine.co.uk
comments powered by

Disqus
---