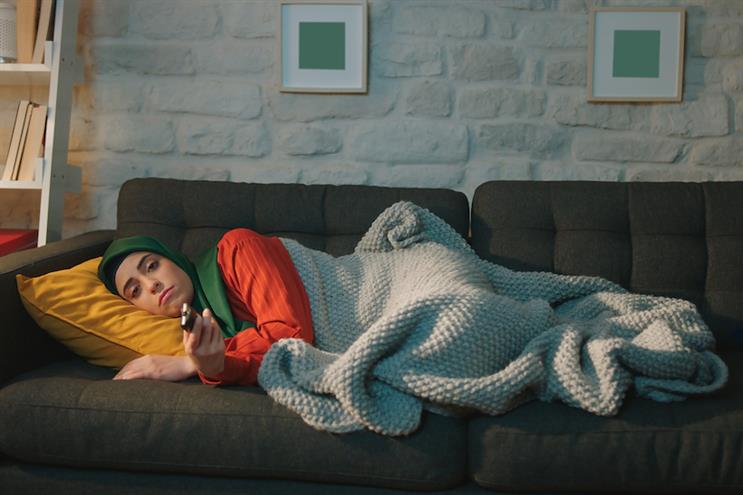 The watercooler moment was dead, they said. Our lives are too busy, our tastes too fragmented for meaningful shared TV experiences. But thanks to Covid, we've gone back to the future.
Being stuck at home unified the nation in a way we thought had gone for good. "TV has been a Covid companion – the national blanket of warmth and entertainment," said Clare Peters, deputy head of client at Channel 4. "Even the news became a 'moment' in the household." 
"One thing's certain – people like to talk about what they're watching on TV and what they're eating!" said Chris Byrne, media lead at Lidl. On a more serious note, he added that TV had been an "outlet for those who are feeling alone or in need of support" as well as a source of discussion and debate.
Emma Withington, head of planning at Manning Gottlieb, noted that "viewing figures have shot back up for those big live moments", whether that be the Queen's message, the return of live sport or I'm A Celebrity.
But it wasn't just the programming that connected the population. "It fed into ads as well," commented Carl Connaughton, head of investment at OMD. "ITV ran the People's Ad Break initiative, where people were tasked with remaking classic ads with what they could find around the house with the winning ads aired on Britain's Got Talent." 
Humanity and empathy
The unique challenges of the pandemic and debates about social justice brought a change in tone to TV advertising. "It gave brands a voice to realign with how their customers are thinking and feeling," said Byrne, highlighting campaigns around mental health and the NSPCC.
"Initially everyone was panicking," said Withington, "but then you saw a long-term mindset kick in, like the On the Beach ads that had a hopeful, forward-looking message." Peters added: "We've seen a level of empathy and humanity from brands that we wouldn't have seen a year ago."
Keep calm and get creative
Whether it's David Tennant and Michael Sheen's 15-minute two-hander, Staged, on Zoom for the BBC or Channel 4's Jamie: Keep Cooking and Carry On filmed on a mobile phone, necessity has definitely proved the mother of invention.
"It's created an experimentation mindset from a broadcasters' and brands' perspective," said Peters. "Jamie: Keep Cooking and Carry On was shot by his wife and kids on mobile phones! The concept of that show was delivered to Channel 4 on Thursday and was being shot the following Tuesday – that would never have happened before. It feels TV has entered a new era and, a bit like working from home, you can't just reverse those trends."
Withington added: "That we saw ads and programmes feature Zoom was just a great reflection of the world that we were in.
Collaboration and solidarity
Competition is so … 2019. Whether it's campaigns supporting key-workers, social justice or vital messaging in the national interest, working together became the new normal for agencies, brands and broadcasters. 
"It's been a leveller for everyone," said Withington. "There has been so much collaboration just to make stuff happen that has a positive benefit for everybody. Everyone's been doing the same things for the same ends rather than being as competitive as before."
Peters added: "The solidarity in the industry is really interesting and I think that's why we're doing some of our best work ever. Clap for Carers – 48-hour turnaround, 39 brands on air. Stand Against Racism – the whole category coming together in a week. Then the vaccine hesitancy – BBC, ITV and Sky and Channel 4 coming together." Byrne agreed: "We stood together on social issues and were able to join in that conversation as a collective."
Connaughton hopes to see the new collaborative attitude extended into measurement.
Social vs broadcast
Withington hopes to see a continuation of the "blurred lines" between broadcast and social content. "There's been a recognition of how the two things can complement each other," she said. Connaughton noted that "Sky Sports have embraced YouTube as a platform in the last 12 months in a way they never did before, perhaps released from the shackles a bit by Comcast".
Full speed ahead?
As in many other areas of business, the need to be agile, embrace technology and work more efficiently than ever has shown what is possible whether it's eye-watering workloads, production turnarounds or shortening AB deadlines. What's the future?
For Connaughton, it's "the to self-serve over the next 18 months. ITV's Planet V is already operating like that."
"The genie's out of the bottle," said Withington. "We had a client admitting they were being 'consciously unreasonable' about the pace at which they expected things to change. I love that – it keeps us on our toes." Peters cited the launch of Channel 4's digital content agency, 4Studio, as an example of the industry-wide shift in attitudes and added: "Before, there might have been a willingness to accelerate but now there's a belief."