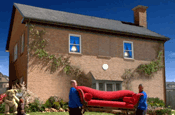 Agency sources said they expected the UK element of the review to begin early in 2009 following market reviews of media for the Telefonica brand in Spain and France and of the O2 media account in Germany.

ZenithOptimedia handles the UK O2 business, having landed the offline media account in 2004, before winning the online planning and buying business in January.

Sources said ZenithOpti­media has a good relationship with the local O2 marketing team but that Telefónica at group level is keen to review its media agency arrangements in all key markets.

However, an O2 spokesman denied that it had any plans to review the UK O2 business.