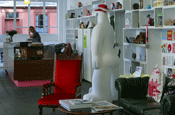 1. Wieden & Kennedy

Wieden & Kennedy seems to have it all. If you work there, you can contribute to some of the best advertising campaigns in the world, and it has a reputation for treating its staff with respect. There's a knitting class, "Thirsty Thursdays", a generous pension scheme and free language lessons. Trendy offices near Brick Lane complete the picture.
2. Fallon
There isn't an ambitious ad practitioner that wouldn't give their favourite pair of ultra-cool faded jeans to work at Fallon. It's the opportunity to be part of some of the best advertising in the world. Nevertheless, the agency is utterly uncompromising. This comes across in its world-beating reel, but also in its treatment of staff. Some thrive there, while others head for the door.
3. MediaCom
MediaCom is known for valuing its staff. "People first. Better results" is the agency's slogan. Staff perks include "freshness training", where the agency will subsidise the attendance of any course from tattooing to interior design. There's also the "enhance" scheme, which gives staff access to a life coach.
4. Miles Calcraft Briginshaw Duffy
Miles Calcraft Briginshaw Duffy is cut from similar cloth to the Abbott Mead Vickers of old. Staff welfare is central; there is a profit-share scheme for employees; and it has a proven track record of looking after the careers of new mothers. The free bar goes down well, as does the Curiosity Fund, whereby every member of staff is given £500 to pursue interests outside of advertising.
5. Agency Republic
If you want to enjoy your working hours, you could do a whole lot worse than apply for a job at Agency Republic. The design of the bar would make the hotelier and entrepreneur Ian Schrager proud, while meeting rooms are equipped with leather armchairs and art work, and the shop is alive and kicking. Log on to agencyrepublic.com for a taste.
6. Beattie McGuinness Bungay
Beattie McGuinness Bungay is a popular destination, according to adland headhunters. Its forays into communications beyond advertising make it a welcome home to those wanting to rip up the rulebook and try something new. In addition, the fact it is a young agency on a steep growth curve makes it an exciting place to be.
7. Bartle Bogle Hegarty
If it's a good CV you're after, a job at Bartle Bogle Hegarty is something you should be aiming for. Not only does it boast creative integrity, but you'll also learn the kind of professionalism that other agencies can only dream about. Similar to Fallon, it's not an easy place to work, but in terms of learning advertising best practice, it's second to none.
8. Abbott Mead Vickers BBDO
Once upon a time, Abbott Mead Vickers BBDO would have topped this list. It hasn't quite got the reputation for looking after its staff needs that it once had, but it's still one of the best places in town to work. There's plenty of avenues to make your mark on some of adland's most prestigious accounts, as well as to learn from some of the most professional practitioners in the business.
9. Grey
If it's a comfortable quality of life that attracts you, then you should be aiming to find employment at Grey. The agency would never have made this list in the past, but extremely swanky new offices have made all the difference. In addition, the kindly nature of the managing director, Chris Hirst, is said to have imbued the agency with a pleasant working culture. Perks include weekly access to a beautician and a doctor.
10. Archibald Ingall Stretton
Archibald Ingall Stretton doesn't appear to have a particular slogan, but "Work hard. Play hard" will suffice. It's a successful and well-run agency, that doesn't sacrifice fun for results.