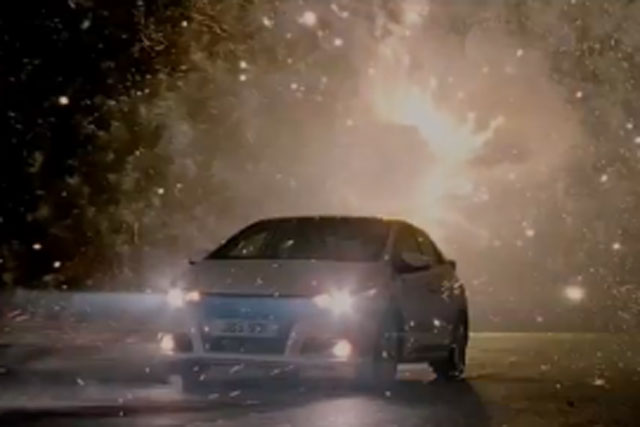 YouTube has once again declined to reveal data on the number of UK views its most-viewed ads of the year attracted.

However, the top ad, Honda UK's "spark" by Wieden & Kennedy London, is known to have had 3.8 million global views. The ad centres on a "spark of inspiration" at a Honda factory, as it passes through a series of adventures, before finally revealing the manufacturer's latest Civic model.

YouTube has included all ads uploaded to its site this year, including ones that ran as pre-rolls, TrueView skippable ads or ones which sit on the site.Peugeot's "nonstop" video, featuring performer Scott dancing to the track 'Feel the Love' by Rudimental, launched in April, came in second place.

Reckitt Benckiser's ad for Durex, showing two record players playing Marvin Gaye's 'Let's Get It On' at different speeds and then in sync, with the tagline "speeds her up slows him down", by Euro RSCG, was the third most-viewed ad on the site by UK viewers last year.

Other ads to make it into the top 10 include O2's "pay & go go go", Comparethemarket's '"meerkat polka band play the Corrie theme tune", BT Infinity's "take a look around Flat 6" and Google Chrome's "Julie Deane".EE's remaster of Fenton for 4G, by Poke, was the eighth most-viewed ad of the year, despite only launching in mid-November.

Last year, T-Mobile's spoof Royal Wedding was the most-viewed ad and the John Lewis Christmas 2011 ad also made it into the top 10.
1. Honda Civic "spark" HD TV ad, created by Wieden & Kennedy London with media by Starcom


2. Peugeot - Nonstop to Rudimental ft. John Newman - Feel The Love, created by Initials Marketing and EHS 4D with media by OMD




3. Durex, "Durex Vinyl", created by Euro RSCG with media by Zenith

4.O2 "
O2 pay & go go go is here', created by VCCP with media by ZenithOptimedia



5.

Comparethemarket, "meerkat polka band play Corrie theme tune" created by VCCP with media by ZenithOptimedia



6. BT Infinity, "tke a look around flat 6", created by AMV BBDO with media by Maxus



7. Google Chrome, "Julie Dean" created by BBH with media by OMD



8. EE, "Fenton 4GEE remaster", created by Poke with media by MEC



9. GiffGaff, "the the CONtract feat. K-Orville" created by Albion with media by All Response Media



10. Turner Benelux, "a dramatic surprise on a quiet square" created by

Duval Guillaume Modem Belgium





Hamish Nicklin, head of creative agency partnerships for YouTube said: "Businesses are increasingly taking advantage of YouTube to build their brand, interact with their fans and spread their message."



Follow @shearmans