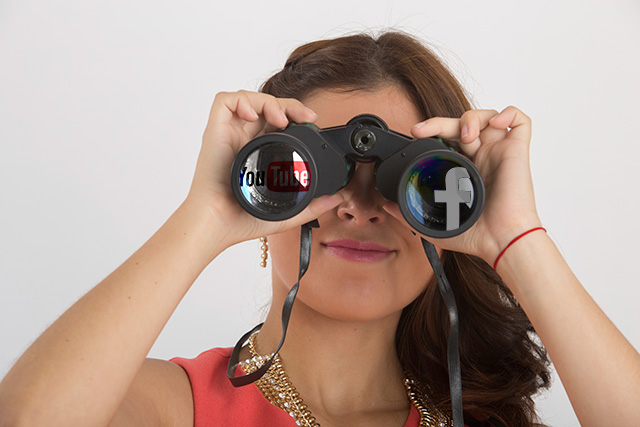 1. Facebook wants to be the new YouTube
In 2014 we saw Facebook challenge YouTube for audience views and advertiser dollars. The world's largest social network started to publicly display view counts in 2014, and with new Facebook video features launching all the time, we're entering a post-YouTube era in 2015. Three-quarters of video views already occur outside the YouTube ecosystem, according to 2014 comScore stats, and in 2015, successful brands will need to embrace multiple media channels to reach and engage their audience wherever they're watching and sharing videos. With video ad spend continuing to soar, YouTube will defend its position vigorously, so this battle between the big guns looks set to become a war of attrition in 2015.
2. TV networks get with programmatic but TV ads still suck
According to IDC, less than 1% of TV ad spend in the US is currently traded programmatically. By 2017 it's expected to leap to 7 or 8%. Bringing TV and digital closer together can deliver greater brand consistency, social amplification and effectiveness, according to research from the IAB and Nielsen, which demonstrated that shifting 15% of TV ad spend to online creates more effective and efficient reach. But the bigger gap that needs to be closed in 2015 is the gaping content chasm: the vast majority of TV ads are still stuck in a broadcast mindset, failing to emotionally engage viewers and missing the opportunity for social engagement and digital amplification.
3. Emotional testing and targeting will drive digital content strategy and distribution
The strength of emotional connection that a video provokes in the viewer is the strongest indicator of word-of-mouth success and earned media. Plus, there's a growing body of research proving that emotional ad campaigns are more effective than rational ones. As advertisers invest bigger budgets in making and distributing ads that create an emotional connection with consumers, testing and targeting for emotional resonance will become best practice and is an example of brands moving into a post-demographic marketing mindset. For 2015, as well as a public backlash against last year's mawkish trend of #sadvertising, we predict a surge in nostalgic ads: movie theatres will be filled with blockbuster sequels from the 70s, 80s and 90s, while brands and consumers alike will seek a sense of longevity and continuity amid a volatile geo-political landscape.
4. Viewability standards will be 'in transition'
In 2014, the IAB and MRC launched their viewability standard for video (50% of the player in view for two continuous seconds), but marketers demanded more and in December 2014 the 'IAB State of Viewability 2015' presented the roadmap for moving video ad campaigns towards 100% viewability. The statement advocates for a 70% viewability threshold during the 2015 'year of transition'. With so many stakeholders and continuing technological limitations, this will be no easy task but with so much confusion in the marketplace, an agreed-upon industry standard is key to restoring advertiser confidence.
5. Attention will be a metric to watch
Marketers continue to seek the most effective ways to measure the success of video campaigns, tracking views to measure reach, shares to measure social impact and clickthroughs to measure viewer actions. We predict a renewed focus on attention metrics such as dwell time and completes in 2015, as new research from Harvard Business School's Thales Teixeira reveals that consumer attention to advertising is dwindling fast and consumer attention has become a scarce resource and a valuable currency in AdLand.
6. Valuable virality will be the cornerstone of social campaigns
Ezgi Akpinar won McKinsey's 'Best European Marketing Dissertation Award' in 2014, with her PhD research revealing that successful advertisers deliver 'valuable virality' with their video campaigns, creating content that is highly shareable, relevant to viewers and integral to the brand. A viral hit where no one remembers the name of the brand is highly unlikely to deliver against business goals such as brand metrics or increased sales.
7. 'Moment Marketing' will close the gap between digital and IRL
Up until now, agile marketing campaigns have largely comprised of the social media teams at brands and agencies adding brand responses to 'zeitgeist' moments and real life (IRL) conversations, with varying degrees of success. Programmatic targeting has made it possible to apply the same agility to paid media campaigns. Data providers are enabling advertisers to move beyond audience targeting and into 'conditional targeting' or 'moment marketing', where digital campaigns are synced with real-world events such as soccer goals, weather conditions and even stock market activity.
8. More brands will create niche content for narrowcast sharing
With so much content flying around our social feeds, people are increasingly likely to narrowcast, or share with smaller groups of people, when content is important, sensitive or relevant to just a select few people in their lives. Couple that with the fact that 98% of all text messages are opened, while 84% of Facebook News Feed stories aren't even viewed (source: Mashable), and this is why we'll see a lot more brands creating niche video content for specific audience segments to be shared on 'dark social' platforms such as Snapchat or IM.
9. Native ads for video will go from buzzword to business as usual
In 2014, native advertising was increasingly used in display formats and we'll see the same thing happen for video ads in 2015, as brands expect their video ads to be delivered within the content stream, a seamless part of the user experience. According to eMarketer, native advertising is expected to reach $5bn by 2017, up from $2.4bn in 2013.
10. Cross-device authentication will be the biggest buzzword of 2015
With more consumers watching video on smartphones and tablets, cross-device video campaigns are no longer a nice-to-have, they're a must-have. And with that comes the imperative to identify users and track reach and frequency across devices, which is particularly problematic as video consumption moves into a cookie-less mobile environment. This is the #1 challenge that will consume the ad tech industry in 2015.