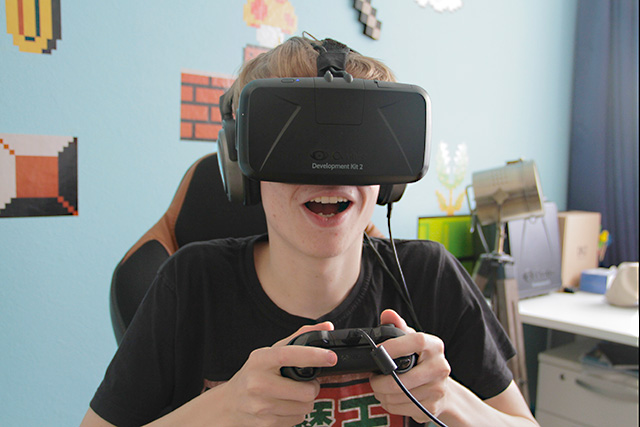 Another year, another slew of new tech jargon on its way. On that note, here are 10 themes for 2015 that may prove useful to marketers. Some may just impinge on our consciousness, others become noteworthy, while others still will gain a foothold in the mainstream.
1. Virtual reality gets real
There is currently no tech with greater potential to break new ground in creativity and communication than VR. Oculus Rift, the company that has made the biggest strides in this space, is to launch a consumer product in 2015. Hold on to your hats.
2. 'Handmade' digital design
We've been mechanising things for so long, it's probably time we humanised things instead. Look out for what ex-Google Glass team leader Babak Parviz (now at Amazon), calls 'handmade' digital design, aided by the blur between off- and online.
3. Mobile marketing steps up a gear
We all know display ads are worse than inadequate and branded apps aren't the solution to every mobile marketing task. Last year we talked about how Facebook's retooled Atlas was set to make marketing across devices and to 'real' people work much more effectively; this year that will become reality.
4. A shot in the arm for the mobile web
Revealed at its Chrome Developer Summit in December, Google is making significant investments in improving the performance of mobile web apps, effectively taking steps to bring mobile web functionality up to par with that of native Android apps. Big news.
5. Wearables' rise, fall and rise again
With the Apple Watch fully on the market, promising to put to bed the issues associated with the category (concerns about privacy, sustainability and style), wearables have a chance to move into the mainstream.
6. 3D printing finds its purpose…
…for now. Until we can print genuinely
usable, mixed-material products more cost-effectively than we can buy them through a regular supplier, 3D printing will remain for professional rapid prototyping only.
7. Networking 'the internet of things'
So far the 'internet of things' has been limited to products that operate as stand­alone systems. The home will be truly connected only when different products link up. We're starting to see this – for example Nest Protect (fire and CO alarm) can trigger a flashing red alarm on connected lighting system Lifx.
8. Proximity marketing moves even closer
As iBeacons are installed in retail outlets, bars and entertainment venues up and down the country we can expect to see proximity marketing grow from being an experiment at conferences to a bona fide marketing behaviour.
9. Social feedback loops spin faster
More connected devices and sensors available 24/7 will demand faster adaptation and shorter lead times to provide users with data-driven, hourly, relevant activity. Global marketing organisations will finally make the most of their resources in different time zones: the brand that never sleeps.
10. Micro-targeting at scale
Once the preserve of US political parties tailoring messages to voters, brands like Coke and Budweiser are using Facebook to reach smaller audiences with different angles on the same idea, building to scale in the process.