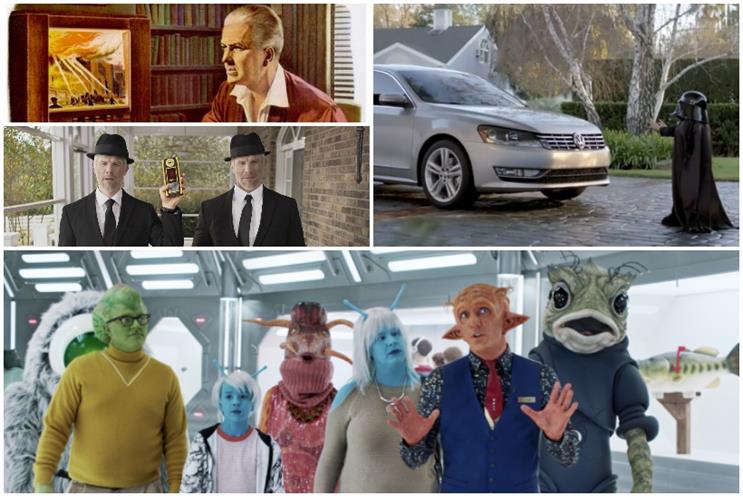 Since well before the Space Age, the world that lies beyond our atmosphere has captivated advertisers' imaginations. This month, Campaign US is teaming up with the 4A's to celebrate the organization's 100th anniversary.
We're counting down the top 100 ads from the past century, including the most memorable sci-fi spots. Please note that a tin-foil hat is recommended attire for reading this roundup.
"Space Zinger" for KFC by Wieden + Kennedy

Starring an unrecognizable Rob Lowe as the newest iteration of the Colonel, this spot sought to elevate the U.S. launch of the Zinger to astronomical proportions. Considering KFC spent an astronomical sum—$80 million—upgrading its chicken-breading equipment in the U.S. so it could offer the sandwich stateside (it's been sold since 1982 overseas), going the hyperbolic route doesn't seem that hyperbolic after all.
"Audi Lunar Quattro" for Audi by 3AM

To demonstrate the superiority of its engineering, Audi made a moon rover using the same materials and drive technology used in its cars. The Lunar Quattro, currently scheduled for a 2018 launch, will—if successful—be the first private rover and fourth rover ever to land on the moon, which Audi calls "the toughest test lab in the universe."
"E.T." for Pepsi

"The dog ate my homework!" becomes "An alien drank the Pepsi!" in this 80s-tastic spot—except in this case, it's actually true. The spot was part of a long partnership between "E.T." and Pepsi, which also included rebates on the VHS release of the movie with a Pepsi purchase.
"Manhattan Landing" for British Airways by Saatchi & Saatchi

Borrowing imagery from "Close Encounters of the Third Kind," which had arrived in theaters 6 years earlier, this spot for British Airways cheekily illustrated the airline's high passenger volume. "Every year, we bring more people across the Atlantic than the entire population of Manhattan," intones the announcer as launch controllers guide a free-floating island that looks like Lower Manhattan across the skies of a British village.
"We Are Not Alone" for Budweiser by DDB

In a 2001 interview about this spot, DDB chief creative officer Bob Scarpelli told the New York Times, ''We try to create ideas that become part of people's consciousness so that the brand is always top of mind." They'd already succeeded globally by bringing "Wassup?" into the popular lexicon, so making it an intergalactic catchphrase was the obvious next step.
"Conspiracy" for Buffalo Wild Wings by Space150

This 2017 entry in the sci-fi pantheon finds a retired Brett Favre drawing the conclusion, conspiracy theorist-style, that Buffalo Wild Wings is the true cause of his infamous 336-interception record. It revived a long-running campaign centered around the joke that the restaurant chain holds special powers over sports. "We had taken a hiatus, but it's popular socially with everyone from professional athletes to our fans," said Buffalo Wild Wings marketing VP Bob Ruhland, "so we felt that the time"—the year of Favre's Hall of Fame induction—"was right to resurrect the campaign."
"The Force" for Volkswagen by Deutsch

In addition to being adorable, "The Force" changed the game for Super Bowl ads: It was the first spot ever released online prior to airing, a hype-generation tactic that's now common practice. Deutsch and Volkswagen both agreed this minute-long version was the best one, but Volkswagen had purchased two thirty-second slots, so the only way to share their preferred cut was outside the game. The bet paid off: "The Force" netted 1.8 million views in its first day and totaled 17 million by kickoff time three days later.
"Project Gemini" for Tang

Astronauts—they're just like us! Released a year before mankind's giant leap, Tang's spot appealed to eager young viewers by showing them how much easier it is to drink Tang on Earth than in space. Prior to the campaign, Tang was not a popular drink, but being associated with NASA skyrocketed it to success. Never mind that astronauts only drank it because their water tasted awful.
"Avos in Space" for Avocados From Mexico by GSD&M

For Avocados From Mexico's 2016 Super Bowl spot, GSD&M positioned millenials' favorite fruit as the crowning achievement of the human race. The spot concluded a months-long runup campaign to the game that invited Earthlings to add their own entries to the Museum of Earthly Wonders's collection of terrestrial artifacts.
"The Men Who Plan Beyond Tomorrow" for Seagram's

This series of print ads for what was then a hugely popular whisky brand imagined what the future might look like, as a way to highlight Seagram's own prowess in thinking ahead by aging "the finest, lightest of Canadian Whiskies for your pleasure today." They're reminiscent of a series that Brazilian agency Moma Propaganda produced almost 80 years later presenting social media platforms in a retrofuturistic style.