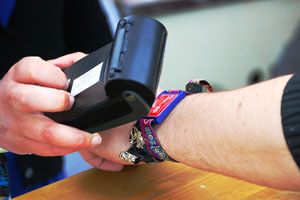 More than 10,000 out of the 55,000 guests used the wristbands to pay for food and drink throughout the site, after the system was trialed successfully amongst a small number of VIPs last year.
The wristbands allow contactless payments using radio technology, by waving the band over a reader. MasterCard UK, Vodafone, Central Catering, technology company Intelligent Venue Solutions and wristband manufacturer ID&C partnered with the festival's organisers to set up the payment method.
Before Isle of Wight festival started, ticket holders were given the chance to upgrade their standard wristband to an RFID one which was then linked to their credit or debit card.
All the main bars and some catering outlets accepted the wristbands for payments and top-up points were set up around the site. Visitors using the wristbands could spend up to £20 in a single transaction and unused credit was automatically refunded after the festival.
Steve Daly, operations director at ID&C said: "There are a number of festivals throughout the UK, Europe and US adopting the technology, and they're all using entry wristbands as the intermediary. It's a convenient way for fans to reap the benefits of the technology and enhance their festival experience."

ID&C is also supplying RFID wristbands to Wireless festival in Hyde Park from 6-8 July, which will be the first festival where all vendors will accept contactless payment such at the Barclaycard pay band.
Isle of Wight was one of several events to be badly affected by the recent bad weather. Its car parks became mud baths and organisers put on a fleet of 4x4s and tractors to help revelers leave the festival safely.
Will more festivals adopt cashless payments? Comment below and let us know.
Don't miss our Trendwatch feature on the rise of RFID technology in the next issue of Event magazine by subscribing here.