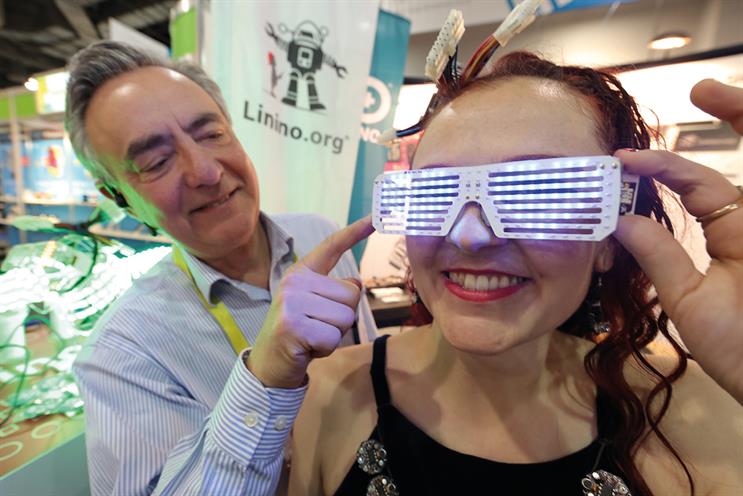 1. Brands fuel premature technology arousal
This is the way consumers (often selfishly) decide how they want technology to work for them beyond its current capabilities.
Yet in a strangely prophetic way, that is precisely what spurs on developers to improve their products.
An example? Spotify talked about how its users want a seamless music experience from the moment they wake up in the morning, with their chosen playlist synced across their day – whether they're pumping it at the gym, in the office, commuting or simply going to bed. Across devices, on demand, no lag.
Imagine a personal playlist that follows you wherever you go – by working with partners such as Uber, your chosen music even follows you into the vehicle that you have just booked and plays your tunes on that car's sound system. Cool, huh?
2. Digital assistants pave the way for a new optimisation
Digital assistants such as Siri (pictured below), Cortana, Alexa and soon IBM's Watson are making our lives easier. They often access traditional search engines to find information for us.
While SEO and pay-per-click advertising work within mobile and desktop settings, there is little precedent in this new voice-based frontier.
Excitingly, the rise of digital assistants paves the way for a new kind of optimisation. The key to businesses excelling in this new format is to ensure that their information is easily accessible to these assistants rather than trying to funnel people to their own websites.
3. MasterCard moves beyond credit cards
Samsung has embarked on a collaboration with MasterCard to facilitate commerce from its connected home objects, which means the company is moving beyond payments.
MasterCard is becoming the platform through which all payments for connected products (such as eggs, coffee and milk) are bought via Samsung electronics products. It will process payments by any credit card or debit card, the company says.
In other words, MasterCard is thinking beyond simply being a credit-card company and trying to emulate Apple with Apple Pay.
4. Marketers should be cautious about virtual reality
Digital strategists and content creators on the OMD-hosted panel "Virtual reality: the dawn of a new era in media and marketing" discussed the storytelling power of the technology and its potential to produce negative consumer experiences. Sometimes VR can be too real for some, they warned.
Create's Jake Black, a movie and television trailer editor who created an Imax VR experience for last year's The Walk, said viewers could become so "scared and petrified" from the interaction that they could rip off the headsets because "it's too intense of an experience". As VR sets become more prevalent, Black predicted a ratings system (similar to those used for films and games) that will warn people about the intensity of the experience.
5. The car poised to be the ultimate piece of mobile technology
Many new cars in the US now come with mobile hotspot options, enabling content consumption via internet protocol while in the vehicle. For anyone with kids who carry iPads into the car and expect content to continue streaming once the household Wi-Fi signal fades, the presence of a mobile hotspot that has decent speed and connection quality is welcome news.
If car-based Wi-Fi can be made high-bandwidth and high-quality, it would provide strong opportunities for media and entertainment companies to stream programming into vehicles.
Driverless cars create an entirely new captive audience for advertisers: people who would otherwise be driving could be engaged with content. Assuming Wi-Fi-enabled cars would be targetable in the same way other devices are (ie. via the same unique identifiers used today in audience-based buying of addressable media), they would offer high-quality, targeted-audience opportunities. And there will be an added contextual dimension, such as parent and kids on their way to school and daily work commutes.
6. The Internet of Things becomes the Internet of Everything
The buzz phrase for the past few years at CES has been the Internet of Things. This year, it will finally morph into the Internet of Everything.
The trailblazer was Nest, with its smart plugs and app-controlled central-heating systems. Now, it seems everyone has jumped on the bandwagon, if you take a glimpse at the dazzling array of connected items that are being touted this year.
Here are just a few examples of what's on offer:
n A shower head that tracks how much water you have used (why would you want to do that?).
n A vibrating sofa to alert you when your favourite TV show is about to start (the mind boggles as to what kind of content you might watch with this gadget).
n An alarm clock that will wake you up with a smell rather than a noise – odours on offer include croissant, peach and, erm, money (very apt for Las Vegas).
7. Planet of the apps gains momentum
2016 looks to be a breakthrough year for app adoption (over HTML5) for business owners, driven largely by an increase in app indexing by search engines.
Just last year, Google updated its algorithm to benefit companies with mobile-optimised sites, but its new mobile app indexing delivers an even bigger ranking and visibility advantage to companies with an app.
Combined with the improved functionality of apps compared with mobile sites, we can expect even more apps from the companies we love and frequent the most.
8. Beauty tech gets more sophisticated
The most interesting additions this year were in the newly launched Baby and Beauty tech forum.
There were smart pregnancy self-monitors, tailored nutrition systems for babies, gluten sensors for food, baby safety devices and nausea-battling health bands.
There were also at-home ultrasound devices and vibrating facial devices that are designed to stimulate tissues or make skincare application more effective. Beauty tech is a growing space.
We're seeing more sophisticated devices allowing for self-diagnosis, at-home treatments and personalisation.
9. Programmatic creative bridges the gap between data and quality messaging
The irony of programmatic creative is that the data and technology needed to make it run is viewed as a wedge between marketing disciplines. In reality, it's the glue that is going to bind them.
Creative teams now have access to countless creative executions that garner deeper consumer insights and copy-and-design lessons; direct response teams can use this information to improve offer results; social teams can develop more relevant content; the entire marketing team benefits from what can be described as a massive consumer focus group. And now the teams are all connected.
The technology and data are ready – it's just a matter of building a structure that helps to harness the power.
10. Consumer recording devices get cheaper, more mobile and better-quality
GoPro disrupted Polaroid, and now Polaroid is disrupting GoPro. The Polaroid Cube is a 35mm HD camera that is waterproof, durable, high-quality, lightweight and can be mounted to almost anything.
Ricoh launched the Theta S 360 camera, which is the size of a small TV remote control and contains two fisheye lenses. Early adopters now have the ability to easily create 360-degree HD content.
These new devices could offer advertisers an amazing source of high-quality user-generated content that can be contextualised and curated for any screen, including mobile, digital and out-of-home.
Digital inventory and full-motion digital out-of-home are in a prime position to become a content platform in and of themselves, both for brands to broadcast from and for users to contribute to.
11. OTT content truly becomes a global experience
The race is on for content providers to match both the entertainment and the visually gorgeous experience that 4K provides.
But what's interesting is the level of attention paid to Netflix's keynote at CES. Reed Hastings (pictured below), the company's co-founder, cited stats including 70 million household users clocking up a total of 42.5 billion viewing hours in 2015.
"Over the top" is truly becoming a global experience, which poses some long-term challenges for brands – how do you advertise in a world where TV copy doesn't exist?
Video as a branding format is unbeatable for emotion and telling brand stories. While many brands have gone into the publishing game, with branded content seeded on all the right platforms, the continued cord-cutting in TV begs the question: should product placement be reconsidered as a more long-term brand-building strategy?
Contributors: Steve Blakeman, Jeff Tan, Erin Matts, Lucie Greene, Damian Blackden, Jason Harrison, Zanub Saeed and Sarah Ivey
Read more: Tech viewpoint on CES