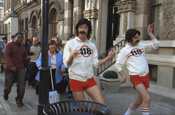 Oystercatchers is set to send an initial request for information to agencies today ahead of a pitch for the consolidated 118 118 offline and online business.

Campaign revealed last month that 118 118 was planning to review the business (Campaign, 12 February).

The account is currently split between OMD UK, which handles the offline account, and BLM Quantum, which was appointed last year to handle online.

Oystercatchers recently organised a pitch for 118 118's digital advertising that resulted in Work Club and LBi being appointed to work with the brand.

The operator of 118 118, The Number, recently awarded an ad brief to The Brooklyn Brothers, which worked on the campaign that featured Ray Parker Jr singing a version of his classic Ghostbusters song.