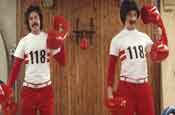 118 118 | Training to Help
Following WCRS's '118 Team' ads the mustachioed boys are delving back into the 80's to promote their ability to "do more than numbers".
This time around the ad is set in a top secret gym where the boys work out, to the song Maniac from the cult film "Flashdance", to stretch their cerebral and physical muscles so they can offer services such as train times, cinema listings advice, news and reviews.
The execution begins with one of the boys sitting up in bed and saying: "I love helping people 118, but lets do more", before proceeding to slide down fireman's poles and hit the gym. As ever, they are assisted by a cast of oddballs who fill the backshot with amusing antics, such as a man in a brown sweater doing a very impressive moonwalk.
Project name: Training to Help
Client: job title Mark Horgan, Mark Evans, Catherine Boyd
Brief To demonstrate how 118118 helps people - with much more than just numbers
Creative agency: WCRS
Copywriter: David Cornmell
Art director: Jane Briers
Planner: Simon Law
Media agency: Naked/ OMD
Media planner: Kate Bower (Naked)/ Cate Murden (OMD)
Production company: Hungry Man
Director: Owen Harris
Editor: Amanda Perry
Post-production: The Mill
Audio post-production: Jungle
Exposure UK National TV