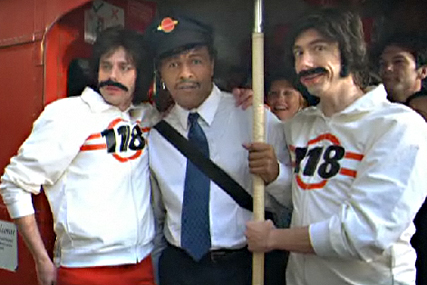 The brand is understood to be investing £10m in the campaign, created by The Brooklyn Brothers.
The ads break this week with a TV spot featuring the duo going to great lengths to retrieve numbers. The characters use an iPhone to dial up the directory service, the first time 118 118 has featured a specific handset in its advertising.
The brand has signed a deal with Channel 4 to sponsor 'The Simpsons' on the channel and is expected to roll out idents this week. It will also launch fresh idents as part of its ongoing sponsorship of ITV Films.
The campaign signals a change in strategy for 118 118. It is refocusing on its core proposition of providing telephone numbers, rather than the wider range of information services it has pushed in recent campaigns.
The brand characters made their debut eight years ago as runners. In the intervening years, they have been cast as spoof detectives, taxi drivers, dancers and animated cartoon characters. The characters' return to their sporting theme comes ahead of the London 2012 Olympics.
While TV advertising has previously been a core channel for 118 118, it is broadening its spend to other platforms and investing more in digital, mobile and social media, as it looks to increase its online presence and attract younger audiences.
It plans to support the campaign with digital and direct marketing over the year, and will seed some of the content through social media.
The campaign follows a marketing restructure at 118 118, which resulted in the departure of chief marketing officer Jo Blundell to Burger King in April.
The company, which is owned by US firm Knowledge Generation Bureau, is looking to appoint its first European marketing director to help grow the 118 118 business across the continent.
In my view: Jim Prior, managing director, The Partners
Since the deregulation of UK directory enquiries in 2002 there has been a lot of competition.
118 118 has done amazingly well in owning that category, through a very intelligent awareness-building programme.
Although there are other players and new technologies, I do not think that competition will be any stronger now. 118 118 will be looking at new channels and changes in the market that will affect its forward strategy.