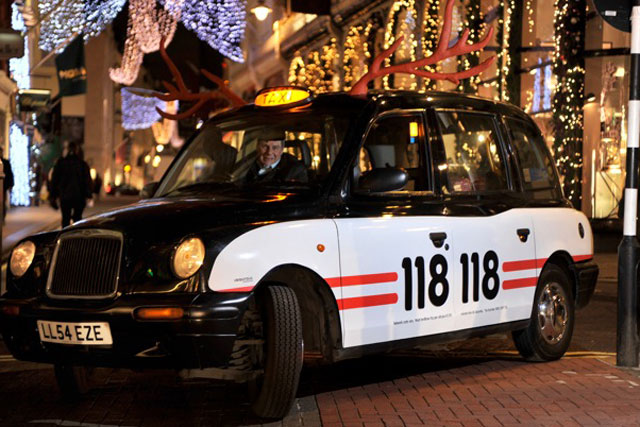 As part of the campaign, the service is offering Londoners free rides in a fleet of its branded 118 118 cabs.
The 10 taxis that have been emblazoned with its number will take to the streets tomorrow (Thursday), between 6pm and midnight. Anyone who sees one will be able to flag it down and get a free ride to anywhere in zones one and two.
Created by The Brooklyn Brothers and Diffusion, press and outdoor ads will feature in the Metro and on Tube escalator panels to promote the light-hearted gimmick, "Cabmageddon", which is also being supported by a Facebook campaign.
The Facebook app gives people the chance to win rides in the branded cabs in the run-up to Christmas by dropping a pin to show where they would like to be picked up from.
The taxis have been provided by taxi advertising specialists Ubiquitous, who have managed the branding of the cabs and recruitment of the drivers for the stunt. Media buying is being handled by Zenithmedia.
The drive is part of a wider marketing campaign from 118 118 called 'Everyone's Little Helper' which will be appearing across the UK this month. It includes press advertising, outdoor, digital outdoor and escalator panels, and will highlight the number of people that the 118 118 service will help with festive dilemmas, from finding the last train home, to ordering takeaways.
According to call data from 118 118, Thursday will be the busiest night of the year for people hunting for a taxi.
Therefore, the service is encouraging revellers to ease the pressure on London's cabbies by pre-booking their taxi with one of the 18,000 cab firms listed in the 118 118 directory.
William Ostrom, communications director at 118 118, said: "As well as reminding people to book their travel through our directory of taxi services, we also wanted to give Londoners a little something extra this holiday season.
"Who knows, you might just get lucky, and if not, there's always 118 118."
Follow Sara Kimberley on Twitter @SaraKimberley