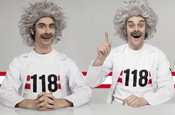 All users have to do is text a query to 118 118 and the service will send back the answer. The company hopes to use its size to challenge the niche players in the business, such as AQA and Textperts, and substantially expand the market.

WCRS has created a campaign that breaks on 26 March to back the relaunch, which sees the runners transformed into grey-haired boffins.

After being struck by lightning while in front of their PCs, the boys go through a transformation and start spouting information they didn't know before, such as "the first photograph was taken in 1826", and "the speed of sound is 761 miles per hour".