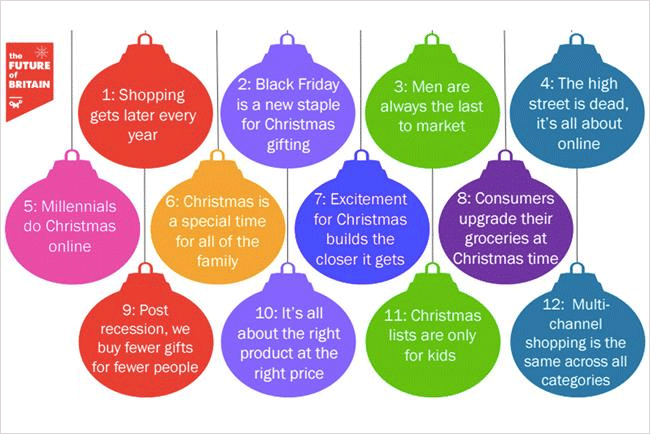 The findings came from the Omnicom media agency's latest Future of Britain survey, called Future of Christmas, and seeks to debunk 12 myths that will shape brands' festive marketing.
Among these myths is the assumption that millennials do all their Christmas shopping online. The survey found 51 per cent of 16- to 24-year-olds enjoy Christmas gift shopping with other people. This percentage declines among older age groups.
The research also discovered Christmas TV ads that premiere in the first week of November enjoy a "love" peak in mid-November, but fatigue by mid-December. A third of those surveyed said Christmas is becoming "over commercialised".
Another supposed myth is that consumers upgrade their groceries at Christmas time, when in fact people shop at more supermarkets in December (2.8 per week) than November (2.3 per week). One in four people said they were less brand loyal at Christmas.
The survey of 4,000 people took place over a 12-week period to find out what people think about festive marketing and how they shop during the winter months.
Building on the report, OMD is launching Your Voice, an "always-on" community comprised of more than 100 survey participants. Your Voice will help to shape the comms plans of all the agency's clients.
Sarah Gale, the head of insight at OMD UK, said: "Your Voice is the natural step from this report, taking the findings and putting them under the spotlight of real people as the year progresses.
"It will allow us to talk to people almost immediately about the things that matter to our clients. This is an important moment for the Future of Britain and we can't wait to see it develop as we grow our community."