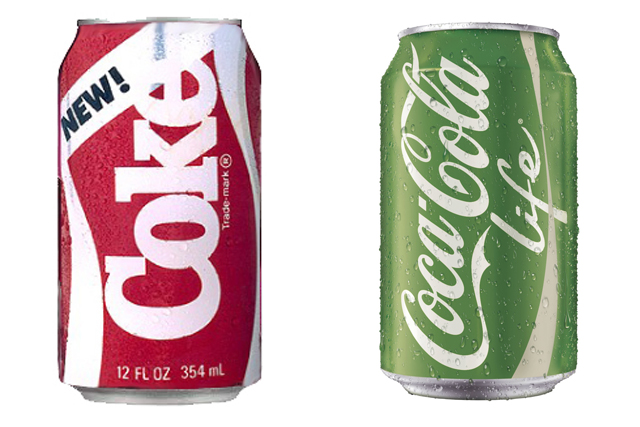 Coke announced this week that it is to launch Coca-Cola Life, its first new variant to come to market for eight years. We look back over nearly 130 years of Coke and its progeny.
1886
Coca-Cola is invented by Colonel John Pemberton, who has been injured in the Amercian civil war and developed an addiction to morphine. He decides to invent a tonic to cure him of his habit and comes up with a coca wine - which uses coca leaves (the basis of cocaine) and kola nuts (a source of caffeine) - to cure him.
Eventually, Coca-Cola becomes widely available, sold as a medicine at soda fountains across the US, with Pemberton claiming it could cure ailments including impotence, headaches and dyspepsia.
The brand's first-ever ad runs the same year, while two years later Pemberton issues (probably) the world's first promotional coupon, offering people a free glass of the drink.
The recipe has since changed - while caffeine remains a key ingredient, the coca was removed from the recipe in 1903.
1982
Coca-Cola creates its first brand extension after nearly a century of existence. Diet Coke is born - a sugar-free version of its flagship product, launching in the US in August, and created using sweeteners aspartame and saccharin.
Diet Coke's advertising uses slogans that include its most famous, "Just for the taste of it!", with TV ads featuring the "Diet Coke hunk".
After 1982, several Diet Coke variants are rolled out, including lime, cherry and vanilla flavour.
1983
Caffeine Free Coca-Cola launches, but only in the US.
1985
Coke causes controversy in 1985 and beyond when it changes the formula of its core Coca-Cola product and rebadges it "New! Coke", referring to the product as the "new taste of Coca-Cola". This remains in place until 1992, when it is renamed Coca Cola II.
Despite pre-launch research that finds Americans prefer the taste of New Coke over original Coke, the public reaction is overwhelmingly negative. Even Fidel Castro, a fan of the drink, joins the furore, describing it as a sign of American capitalist decadence.
The company eventually replaces New Coke with the original recipe and the name Coca-Cola Classic.
Coca-Cola Cherry, commonly referred to as "Cherry Coke", is also unveiled in 1985, firstly in the US. It is now available in markets across the world, including the UK.
2001
Coca-Cola Lemon becomes available in various markets, including the UK, until 2005.
2002
Coca-Cola Vanilla is launched in the US and UK, among other markets, before being discontinued in 2005. However, it is brought back by popular demand in 2007, and renamed Vanilla Coke.
2005
Coke Zero - a no-calorie variation of Coca-Cola - goes on sale. The branding and description is deliberately pitched at men, after research shows they are put off by products bearing the word "diet".
Variants of Coke Zero include vanilla and caffeine-free versions.
In 2014 the brand is relaunched in the UK and Ireland with a campaign called "Just Add Zero".
2007
Diet Coke Plus is unleashed on the public - a Diet Coke formulation laden with vitamins and minerals. It is launched in the UK in October in two variants - one containing vitamins B and C, and the other, antioxidants with green tea extracts and vitamin C. However, it fails to catch on and is discontinued.
Meanwhile, Coca-Cola Orange goes on sale in the UK and Gibraltar for a limited time. Since 2009, it has been available in the US at Coca-Cola Freestyle fountain outlets.
2013
Coca-Cola Life is launched in Chile and Argentina, as a trial ahead of a wider global roll-out.
2014
Coca-Cola announces that Coca Cola Life will be the first new cola drink from the firm to be rolled out for eight years. It is a low-calorie cola, sweetened with a blend of sugar and stevia, which contains a third less sugar and a third fewer calories than red Coke.
Packaged in a green-coloured cans and bottles, UK consumers will be able to buy Coca-Cola Life from September.