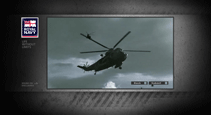 Glue London led the British pack with a tally of seven shortlisted entries for Royal Navy recruitment (three), Mini (two) and one each for Coca-Cola and Adidas.
Following them, but some way behind, with two entries each were Agency Republic, Hyper Happen, Dare, Profero, Agency.com and JWT.
However, British agencies were dwarfed by the performances of the USA and Brazil, which managed to tot up 64 and 49 shortlisted entries respectively. The most shortlisted agency by some distance was America's Crispin Porter + Bogusky, with 15 entries.
There was also room on the list for three London advertising agencies, McCann London (Hewlett Packard), JWT (MTV/Auto Trader) and Miles Calcraft Briginshaw Duffy (Operation Trident).
They all appeared in the Viral Video or Other Digital Video sectors, which also included work from Blink London (Blink Solutions), Meme (118 118) and Modem Media (Hewlett Packard).