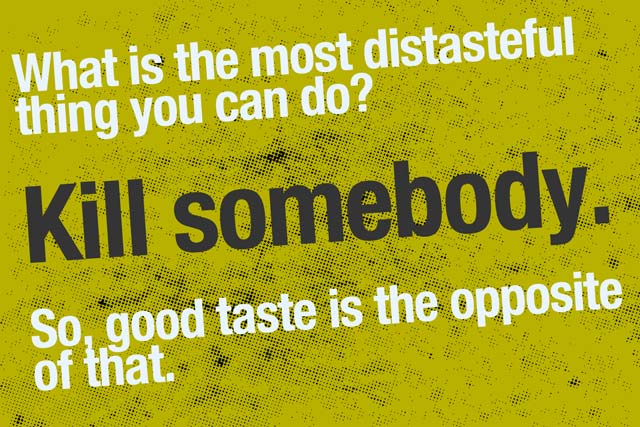 To whoops, Kanye entered the sell-out main auditorium and for an hour he entertained the audience with his thoughts on everything from Steve Jobs and Beats by Dre to his wedding and why he's with Kim.
He started off by saying...
"I don't want to say these big over-the-top statements that end up getting quoted." But thankfully he soon broke that pledge. "Empower the best content creators, or fuck off," was his sign-off from the highly-engaging session.
"The world as a whole is fucking ugly. The internet is ugly too...Instagram is nice, I'm not knocking that."
"Bad taste is vulgar. What is the most distasteful thing you can do? Kill somebody. So good taste is the opposite of that."
"Before there was racism, there was classism. Technology completely broke that."
On his desire to be with the best in life and work...
"I can't be with any girl except Kim because that's the girl who I looked at her picture the most and get turned on by the most."
"America makes the best music. Italy makes the best suits."
"Why did Annie Liebowitz pull out the day before the wedding?"
"There would have been no Beats deal without the Samsung deal [with Jay Z)."
"I'm not a big fan of Samsung, by the way. I am a fan of Annie, though."
"I didn't name-drop Spike Jonze earlier to make myself look cool, that's my friend."
On hip-hop's successful link up with brands...
"Black people are allowed to wear big chains and say out loud what stuff costs."
"I think colour is a big branding tool but it's also the lowest hanging fruit. I totally disagreed when Apple came out with this coloured phone. No, Steve would never do this."
On the colour of cars...
"Cars should just be metal."
On Alicia Keys being named as Blackberry's creative director...
"It's just ridiculous to give any celebrity a creative director role of anything...There's only like three guys it could possibly work with. That's Ryan Leslie, me and Will-i-am."
"I hate the one-off. We [celebrities] are treated as rentables, the one-off."
"You have to take the lashes of people not understanding."
"I couldn't have happened if Jay-Z didn't endorse me. Eminem couldn't have happened if Dre Dre didn't endorse him.
Want more from Cannes? Visit the international live blog powered by Campaign