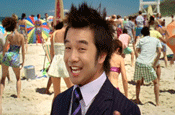 Delaney Lund Knox Warren & Partners is the incumbent agency and will repitch for the business.

The pitch is being handled by Agency Assessments. A brief is expected at the start of May with the pitch held in June.

The "cast of characters" campaign has historically featured real staff members singing along to reworded versions of classic songs.

The most recent of the series saw Howard, the first star of the campaign, playing a cameo role.

Vizeum is the media agency on the account and remains unaffected by the review.