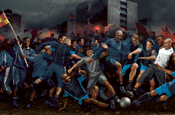 The agency, which worked with other Omnicom agencies including TBWA and a number of independent digital specialist agencies for the review, is understood to have beaten Avenue A | Razorfish, Droga 5 and Isobar to secure the business.

The process was run from the Adidas headquarters in Amsterdam

It is thought the winning agencies will be briefed to create a more focused approach to digital advertising for the brand.

The decision to appoint 180 to the digital business will come as a relief for the Amsterdam-based agency following last week's news that it had lost a pitch for Adidas' global running account.

The business, on which 180 was the incumbent agency, was handed to Iris Worldwide.

The appointment will see Iris managing strategy, advertising, retail and experiential marketing for the brand's running products.

Last week, Adidas announced it would be taking part in an initiative with Facebook in the US that will see the social networking site trialling an interactive advertising service.

The system will differ from Facebook's current ads by allowing users to comment on so-called "engagement ads", "become a fan" of the product or service, or send a brand-related virtual gift to a friend, all without having to click through to a separate page.